The Strategic Directions for Christchurch City Libraries 2002 - 2007
Revised framework July 2002
In November 1997 Christchurch City Libraries published its Strategic Directions1. Since that time the underlying purpose for having libraries has not changed. It has in fact been strengthened by the rise of the knowledge society and the explosive growth in information available electronically. This revised plan will guide decisions through the next three to five years.
The review has been undertaken within the framework of the Christchurch City Council's strategic vision and outcomes for Christchurch2. Since the 1997 plan was produced the Council has adopted a triple bottom line approach to determining benefits, taking account of the social, environmental and economic aspects in building a sustainable Christchurch.
Within this context, the plan will guide decision-making concerning capital investment and service delivery options. The focus is on providing outputs which meet the outcomes required by the Council for vibrant and strong communities.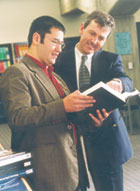 Changes since 1997 which have impacted on planning include:
The growth in electronic publishing and use of the internet and electronic media as key tools for communication, information and delivering services
Increasing diversity and ageing of the population
Greater focus on learning throughout life, including community education, the growth of private providers and changes in the educational qualification framework
Increasing demands and choices for people's time
Increasing customer expectations
Following research and consultation, a number of goals and objectives have been formulated. Many of the directions of the original plan have been confirmed and extended. One significant new direction is the outward focus as libraries seek to take services and information to where the people are.
See also Ngā Tapuwae Hou, our Bicultural Plan
2. Christchurch City Council. Strategic Statement. 2002 edition. Christchurch, 2001.
Our Vision
The people of Christchurch enjoy a lifelong relationship with the library
Values
Equity
Accessibility, diversity and fairness in the treatment of all individuals
Intellectual freedom
Free exchange of information and ideas in a democratic society
Manaakitanga
Respect and care, support and hospitality
Empowerment
Enabling people to learn and make decisions for themselves
Reliability
Consistent, dependable and timely delivery of information and services
Working together
Seeking opportunities to work with others in our community
Accountability
Using resources responsibly
Christchurch City Libraries ­ more than you think!
Our purpose is to inform, educate, entertain, involve and inspire. The outcome is improved personal, social, cultural and economic well-being for the people of Christchurch.
We are in the business of connecting people with information and ideas to create knowledge and enrich lives through the power of stories.
Strategic Goals
Library +
+ Library
Learning &Literacy
Information ­ how, when & where
Knowing who we are

Making the most of your libraries…

Programmes and events to enrich lives
Spaces to read, study, relax, listen and be informed
Books, music, magazines
… to go

… as the heart of the community

Working with you where you are…

Telling you what's available
Using library skills and people to support community initiatives
Involved on your terms

… to strengthen communities

Supporting your learning…

Encouraging and promoting reading
Computers for use and learning
Working with and supporting educators

… to grow knowledge together

Delivering more ways and places…

In a way and at a time that suits you
Working with you, for you ­ or you can do it by yourself
To your desktop at home, school or work

… to put the world at your fingertips

Celebrating our diversity…

Knowing how you belong and how you can participate
Preserving our past and present for the future
Connecting with Tangata Whenua

… and our right to know and participate
To achieve the Strategic Goals we will:
Make it easier for customers to use library services and access information electronically
Encourage community participation through events and programmes
Work with Māori to achieve more relevance and take up of services
Develop strategy and co-ordinate delivery of learning and literacy programmes
Develop services to suit lifestyles and different needs in our community
Raise our profile to build community awareness about what we offer
Achieve a city-wide network of libraries
Investigate and implement technology which improves services and outcomes for customers
Develop relationships and partnerships with other agencies to strengthen services and support community development
Develop and implement strategy for collecting the best books, electronic resources and other materials to suit customers now and in the future
Continually improve library processes and services and action new ways of working to achieve best outcomes for customers and improved efficiency
Expect and support our colleagues to deliver on our Customer Promise
Annual plans document the operational activities that will enable us to achieve the goals
Christchurch City Libraries contributes to these outcomes
Vibrant and strong communities active in the city
Personal growth and creative development
Educated, informed and knowledgeable people
People know and value themselves and each other

This will be evidenced by:

Economic prosperity
Healthy citizens
Social inclusion
Sustainable city

This will be evidenced by:

People enjoying life and constructive recreation
People exploring possibilities and stimulating their imaginations

This will be evidenced by:

High levels of literacy
Easy, equitable access to information
People are active and life-long learners
People making informed choices

This will be evidenced by:

Valuing cultural diversity
Full participation in the democratic process
Adherence to the principles of the Treaty of Waitangi