Directories
Directories offer a unique window into our city.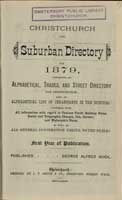 Christchurch and suburban directory for 1879
Described by the publisher as comprising an alphabetical, trades and street directory for Christchurch, also an alphabetical list of inhabitants in the suburbs, together with all information with regard to customs tariff, railway fares, postal and telegraphic charges, cab, carters', and watermen's fares, as well as all general information useful to the public.
The Almanac was published annually from 1853 to 1892. As well as Christchurch and Lyttelton other Canterbury towns are listed. The Almanac includes a review and commentary on the events of the preceding year. It contains listings of businesses, associations, central and provincial government officials and departments; and a trades and occupations directory. Includes postal, port, customs and other regulations; army lists; details of religious bodies, charitable organisations and various societies.

Telephone directory. Christchurch / New Zealand Post Office, 1922

A telephone directory from 1922 for Christchurch and surrounding areas. The directory includes an alphabetical listing, a classified directory of business telephone subscribers, advertising, and instructions and advice for using the telephone exchange.