Matariki — Māori New Year
In 2014, this takes place on Pipiri 28 June
During Matariki we celebrate our unique place in the world. We give respect to the whenua on which we live, and admiration to our mother earth, Papatuanuku. Throughout Matariki we learn about those who came before us: our land, our history, our family.
Matariki signals growth. It's a time of change, a time to prepare and a time for action. During Matariki we acknowledge what we have and what we have to give. Matariki celebrates the diversity of life — culture, language, spirit and people.
2014 theme: Ngā Rongoā me Te Taiao
Our theme for Matariki 2014 is Ngā Rongoā me Te Taiao – Natural medicine and the environment.
Matariki events
Events from Christchurch City Council and Christchurch City Libraries.
Matariki community art project in the library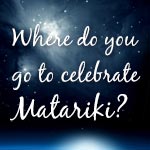 Come along to the library and learn about different trees and plants, their Māori names and traditional and contemporary uses. Do a leaf or bark rubbing, add it to the community art space, or take it home.
Māori resources at your library
Previous Matariki events