Christchurch street and place names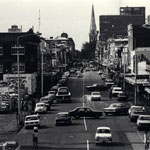 This resource aims to give the origins of Christchurch street and place names.
Please note
Definitive origins are not always possible and, as Christchurch evolved, the same street name was often used more than once. All known names and variants are listed.
Sources
Researched by Margaret Harper, Aotearoa New Zealand Centre, this information has come from published works, manuscripts, interviews and archives. All sources are acknowledged in the documents.
Got something to add?
If you would like to contribute, please contact us.
Download Christchurch street and place name listings
These are searchable PDFs:
Updated: August 2014
Street names
Search for a place
Try this Google Search to find places inside these PDFs.
Copyright statement
Unless otherwise indicated, the Christchurch City Council holds the copyright on all material on the Christchurch City Libraries' websites. This material can be used for personal and non-commercial purposes free of charge without the permission of the Christchurch City Council, provided that the source and copyright status of the material is acknowledged and it is not used in a misleading way.