Alternative education
New Zealand has a wide range of schools offering different approaches to teaching and learning. This page lists resources to help you find out more about them.
Montessori schools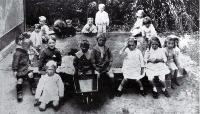 The Montessori system in operation at the Sunbeam Kindergarten at St Albans [1915]
The Montessori method focuses on the individuality of each child in respect of their needs or talents, as opposed to the needs of the class as a whole. A goal is to help the child maintain their natural joy of learning.
Rudolf Steiner or Waldorf Schools
New Zealand has 10 Rudolf Steiner Waldorf schools or school initiatives and more than 35 Waldorf kindergarten groups. Waldorf schools aim to educate the whole child — head, heart, and hands — the underlying philosophy is based on the principle that education should support the development of the child in its physical, soul and spiritual growth towards a becoming a free and responsible adult.
Discovery 1, Unlimited and Hagley Community College
Discovery 1 (Years 1 — 8) and Unlimited (Years 9 — 13) are state funded schools in Christchurch which offer individual, discovery based learning programmes. Hagley Community College is a Christchurch secondary school (Years 9 — 14) which offers a high degree of individual learning support and programmes for adult learners.
Seven Oaks School
Seven Oaks is an independent school for primary and intermediate children. It follows a holistic educational philosophy and curriculum.
Tamariki School
Tamariki School is the oldest alternative school in Christchurch, established in 1967. Its' special character aims are listed here.
Home schooling
New Zealand parents and caregivers can homeschool their children with approval from the Ministry of Education.
Home schooling resources
AHE events bring together families from across the region, building Unity in our Community for a greater sense of belonging.
Canterbury Home Educators Inc. provide access to a wide network of resources and a full calendar of activities and learning opportunities such as camps, sports, life skills, arts, languages, tutorials etc.
Home Education NZ aids, particularly, but not exclusively Christian families to homeschool with ACE.
Ministry of Education
Homeschooling New Zealand is charitable Christian trust set up to support and encourage home educators.
Search our community directory CINCH for 'home schooling'.
Supporting Christian homeschooling with Australian and New Zealand specific content.
Other schools
In addition to these teaching approaches, there are numerous schools around New Zealand that either have their own special character or teach according to their own values, while still meeting the New Zealand Curriculum standards.
The Ministry of Education offers a guide to Types of Schools on its website that offers information on the different types of education available in New Zealand.
Alternative Learning Resources
Our online resources
The Christchurch City Libraries' website offers a comprehensive section on learning. As part of it, it offers parents information and links on starting school and how to choose the right school for their children.
Read our article on Learning Styles.
Recommended web resources