Life-long passion for books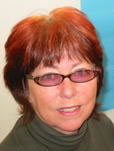 Morrin Rout is one of the festival programme co-ordinators for the The Press Christchurch Writers' Festival. She answered a few questions about the festival, her passion for reading and ravaging the shelves at her local library.
You've assembled an amazing line-up for this year's Festival – how did you go about putting together a stellar array like that?

Hard work and some good luck. Ruth [Todd] and I have built up great relationships with publishers over our years in the book and festival worlds so we put out feelers early on as to who might be available. We've also developed a close relationship with both the Melbourne and Brisbane book festivals and that helps enormously as publishers are more interested in bringing writers out to this side of the world if they are assured they will get good exposure to as many people as possible.

What are your must-see picks for the festival – and are there any hidden gems?

The obvious ones – Kate Atkinson, Robert Fisk, Xinran, Kate Mosse, Vanessa Collingridge – but the hidden gems I think will be Dr Norman Doidge, the Canadian 'expert' on neuroplasticity, Mark Sarvas in the blogging session, Francis Spufford talking about the books that built him as a child, Steve Braunias, the Knox sisters talking about their childhood … I could go on and on.

There are some people who don't come to Christchurch often – as well as international stars like Robert Fisk, poets like Brian Turner, for example - what magic did you need to weave to make some of the big names to accept?

Actually, lots of international writers say that they are really keen to come to New Zealand and if we suggest that they combine their festival appearances with some holidaying that makes the trip much more attractive. Unfortunately most are hurried through because they are on such tight schedules but often say they will come back. And our festival has a great reputation for being such a well-run and friendly event that most writers are keen to be part of it.

You've been a leading light in the Christchurch book scene for some time – presenter of Bookmarks on National Radio, Bookenz on Plains FM and running untold book events – where does your passion for reading and books come from?

I have loved books since I began reading. I grew up on a farm in the Waikato and had parents who were avid readers so I spent most of my childhood with my nose in a book. I read under the covers at night at boarding school and was even teased by my husband for reading on our honeymoon. Books are an essential part of my life.

There's a session at the writer's festival called The Child that Books Built – which books went into the building of you?

One of my favourites as a small girl was Amelianne and the Green Umbrella about a plucky little girl from a poor family. I read all the obvious ones – Little Women, What Katy Did, Anne of Green Gables, The Little House on the Prairie – and then when I was older, whatever I could get my hands on and my parents were reading. I remember being very moved by Sylvia Ashton Warner's novel Spinster which I read when I was about 11 or 12 and was the first truly NZ book that I had encountered.

One of the questions we're asking all participants this year is how they view libraries and how they use libraries? Tell us about your library experience.

I was first introduced to a library when my parents, in desparation at my running out of books to read, took me to the Hamilton Library and organised for books to be sent to me. I loved getting these parcels and would have the books read within a day or so of getting them. The children's librarian, Miss Tasker, wrote letters to me and suggested new authors to try so I learned very early what wonderful places libraries were and how helpful and kind librarians could be.

Later when I was at home with small children I virtually lived at the Lyttelton Library. I would take lists of books in and they would always hunt them down for me. We would come home with vast armfuls of books and I don't remember ever having to pay fines! Now because I get so many books from publishers to review I don't go very often, but I know when I am older I will be back to ravage the shelves!