If you like Terry Pratchett and Douglas Adams
If you like humourous or satirical fantasy and science fiction such as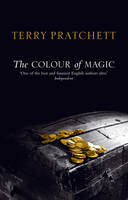 Terry Pratchett's Discworld series and Douglas Adam's Hitchhiker series, then you might also like the following:
Piers Anthony

Thursday Next series.

Eric Flint

Harry Harrison

Won the 2002 Nebula award and the 2002 Hugo award for American Gods.
Has done a number of co-authoring efforts with the likes of Terry Pratchet and Douglas Adams as well as books for young adults and graphic novels.
Titles include Earth, Air, Fire and Custard, Who's afraid of Beowulf & Snow White and the seven Samurai

Grant Naylor

Author of the Discworld books. We have a large number of his books as talking books.
Even the titles are funny.

Geoffrey Chaucer

Canterbury Tales
Although written in 1386, these satirical stories are well worth a revisit for Pratchett fans.
Search our catalogue for more humourous fantasy.