Pūawaitanga o te Ringa - Fruits of our busy hands
The Central City Library
The Central Library moved to the present site in Gloucester Street in 1982, and the planned refurbishment of 2001-2 was motivated by a desire to create more inviting and comfortable public spaces. This was partly in response to the progression of library services from merely holding books and information in familiar conventional formats, to the incorporation of material in videotape, photographic and pictorial forms and a range of electronic sources.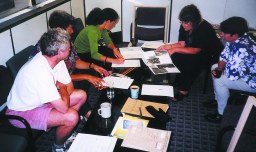 Early planning meeting at the Library
The development of the new Ngā Pounamu Māori o Aotearoa area provided a space substantially larger than the previous Ngā Taonga Māori area, in addition to providing staff dedicated to helping people find Māori information plus listening posts, video viewing facilities, lounge chairs, study space and a range of Māori material. From the early planning stages of this area the Māori Resource Staff, Ngā Puna Waihanga members and contracted architectural and other design staff worked together to incorporate the tukutuku panels into this area, with scores of meetings, phone calls, faxes and emails.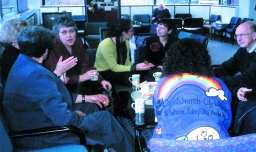 Ongoing planning