Bookgig
In 2001 Christchurch City Libraries and the Christchurch Drama Centre presented a Bookgig based on two of Margaret Mahy's books, A busy day for a good grandmother and The five sisters. Scripted by the Drama Centre's director Rosie Belton, the Bookgig was performed by students of the Centre for pupils from local primary schools.
A busy day for a good grandmother
In A busy day for a good grandmother Scrimshaw seeks help for his teething baby. His mother, Mrs Oberon, sets off to his aid on her trailbike with her special cock-a-hoop honeycake. On the way she rafts dangerous rapids, braves alligators and escapes ice vultures that follow her Piper Cherokee aircraft.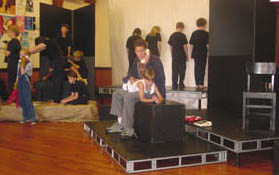 Scrimshaw phones his mother.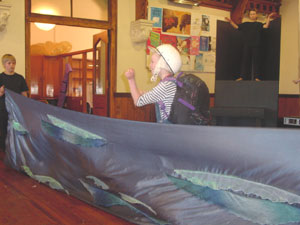 Mrs Oberon comes to the rescue.
The Five Sisters
In The Five Sisters Sally's grandmother cuts out a row of five paper dolls, unaware of the adventures the dolls will have. Tossed by winds, soaked by water and scorched by fire, they still survive, acquiring names and faces from the children and adults that they meet on their journey.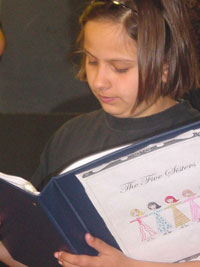 The narrator reads the story of The five sisters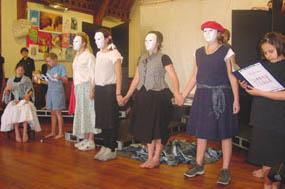 Suddenly there were girls all in a row, all exactly the same shape, and all holding hands.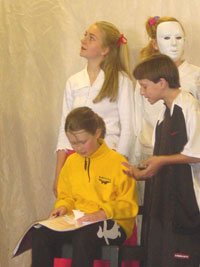 She spread the five sisters in front of her, and began painting the second one.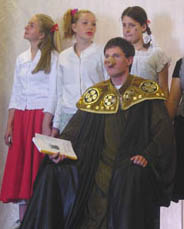 'I'm not putting up with five paper sisters reading the spells in my book over my shoulder. I've had enough,' said Magico-Porkus.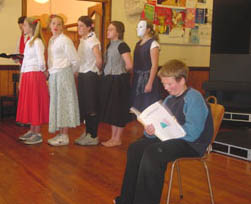 Craig opened his book, and there, at page 25, the sisters were waiting for him.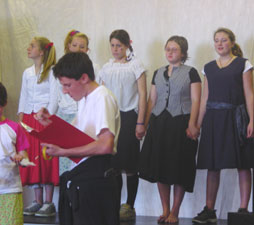 Alpha, Cathabelle, Elodie, Icasia, Zamira - five sisters, all with names and faces, all with smiles, all holding hands, and all free at last.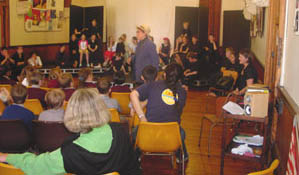 Margaret Mahy talks to the actors and the audience at the Bookgig at the Christchurch Drama Centre.