Margaret Mahy Unveiled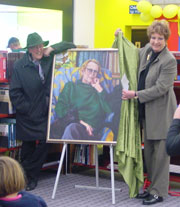 Christchurch City Councillor Anna Crighton unveiled a portrait of Margaret Mahy at the Central Library on Monday 18 August 2006.
Christchurch City Libraries manager Sue Sutherland said, the portrait was purchased with the assistance of The Friends of Christchurch City Libraries to honour the contribution which author Margaret Mahy has made to Christchurch City Libraries.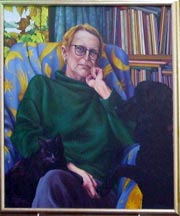 The portrait is part of a series, The Face of the Writer — portraits of New Zealand Writers, by respected and prominent artist Glenda Randerson. The series was a six year project, and has toured public galleries for the previous two years.
Margaret Mahy was the Children's Librarian at the library from 1976 to 1980, when she resigned to become a full-time writer.
The painting was on display in the Centre for the Child until it was removed after the Christchurch earthquakes.
It is currently on display in the Aoteroa New Zealand Centre at Central Library Manchester.