Christchurch's music scene
This article is a brief guide to Christchurch music. We recommend gig guides to help you find out when and where bands and singers are playing.
Music in Christchurch
Christchurch is a city with a strong tradition of live music and performance. Our music timeline uncovers Christchurch's musical history.
Christchurch has its own symphony orchestra and a wide range of other classical music performers. For those who like to listen to music outdoors, there are raves, dance parties and popular outdoor concerts such as Classical Sparks.
The club and live music scene sees local and international acts performing at venues throughout the region.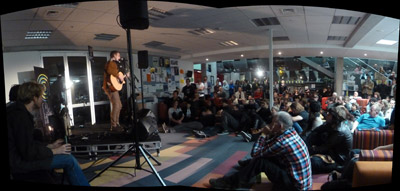 The launch of NZ Music Month at New Brighton Library.
What's on
Venues
Venues, particularly in the central city and Lyttelton, have been hard hit by earthquakes. Current venues operating include:
The CBS Canterbury Arena is the largest venue for performances.
Eventfinder list of upcoming events.
Auditorium seating 700 and located in the grounds of Burnside High School. It is currently hosting events that would have otherwise been held in the Town Hall or Theatre Royal.
Eventfinder list of upcoming events.
A long standing music venue which has relocated.
The Christchurch Polytechnic has opened its doors to musical performances since the earthquake.
Eventfinder list of upcoming events.
The reinvented Dux de Lux restaurant and performance venue now located at 363 Lincoln Road.
Gig guide.
A bar located at 336 St Asaph Street which hosts regular performances.
The Monday Room is located on corner Moorhouse Avenue and Madras Street and has a regular schedule of perfomances.
Events.
Cassels & Sons is a brew bar and restaurant located in Woolston which has a regular schedule of performers.
Gigs and events.
Lyttelton bar and performance venue located at 19 London Street.
Mukuna list of upcoming gigs.
Outdoors
Christchurch has many outdoor musical shows. Hagley Park is the popular venue for these Christchurch City Council organised events including Classical Sparks.
Massive organises raves and Solstice and Equinox dance parties.