Engage by Graeme Bennett
Steel, stone. Unveiled 10 July 2006.
The verb engage means to attract or involve someone's interest or attention and Graham Bennett's sculpture at South Library certainly does that.
Highly visible and dramatic, the seven-piece sculpture stands up to four metres tall and moves from outside the library to indoors. Polished stainless steel rods are topped with curved metal blades balanced with head-sized boulders from the upper reaches of the Waimakariri River.
Engage, Graham Bennett said, introduces a contrast in its curved forms and a human element to the otherwise severe, straight lines of the library's architecture.
"The curves reflect those of the meandering Heathcote River at the library's doorstep, the braided Waimakariri riverbed, on the floodplain of which Christchurch is built, and the backdrop of the undulating Port Hills."
The art work connects with many elements, inviting people to engage, observe or discover the human geographic, climatic and cultural dimensions of the library within the context of the district, province and time past and present.
"It also allows the viewer to consider the interplay of physical structures, social constructs, intellectual notions; dynamics of balance, change and reflection."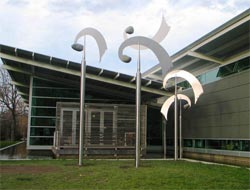 Four pieces of the sculpture are located outside the library, two in the moat and one inside the building. Graham Bennett said that, just like people, the sculpture marches into the building to enhance learning, discovery and understanding.
Graham Bennett was born in Nelson, in 1947, and graduated from the University of Canterbury School of Fine Arts in 1970. He creates sculptures using glass, steel, stone, bronze and ceramics, often basing his work around framework-like structures. Bennett's sculptures deal directly with the relationships between people, place and identity, tying it to sea, sky and land with particular reference to the Pacific region.
His other public art works in Christchurch are the Reasons for Voyaging sculpture, providing a monumental entrance to the Christchurch Art Gallery Te Puna o Waiwhetu, and A Tribute to Firefighters on the banks of the Avon River, made from materials sourced from the World Trade Centre site. His art works are also in Kurashiki, Christchurch's sister city in Japan, and in a number of private sculpture parks in New Zealand. Engage is funded by the Christchurch City Council's Artworks in Public Places Fund.
He has said:
"Seeing, is not just a matter of perceiving that things are two-D or three-D, animate or inanimate, but understanding how and why everything relates - past and present, above and below, natural and imposed, private and public - all the elements, and then to take cognizance of all this and pare it down to the core, the necessary, in relation to the possible and to recognize and accept that this will, in itself, and like life, always involve change and uncertainty.

"I think it takes a lifetime to see. Seeing is standing upright and looking back and forward at the impact of our endeavours in relation to one another, the land and what notions of identity we hold. My art explores my personal questions, arguments with myself and my materials, and maybe, hopefully, encourages other to question and comment."