Koukourarata
— Port Levy
Koukourarata was the largest Māori settlement in Canterbury in the mid 1800s with a population of about 400 people.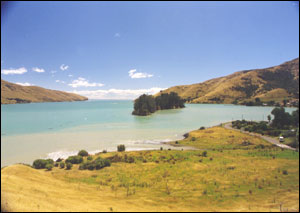 The chief Moki named the bay Koukourarata it is named after a stream in Wellington that recalls the birth of Tūāhuriri, Moki's father and a principal leader of Canterbury Ngāi Tahu. Koukou means to bind up the hair and rarata means to hand over quietly.
It was once the home of Tautahi the chief after whom the swampland area we know today as Ōtautahi (Christchurch) was named.
Koukourarata was traditionally occupied in three main areas: Koukourarata, Puari and Kai-Tara. After the fall of Kaiapoi pā, Koukourarata and Puari became the main centres of Ngāi Tahu activity in Canterbury. The pā was primarily occupied by Ngāi Tūāhuriri and the marae which stands today is called Tūtehuarewa, after a local ancestress.
Māori from Koukourarata bartered shark and other kai moana for tuna (eels) caught by hapū from Waihora and Wairewa, the lake communities over the hills from them. Tons of dried fish were carried inland to trade. The traders met half way on the summit separating the two areas of settlement.
The small island in the bay opposite the Koukourarata settlement is called Horomaka (the island of treacherous rock). This island was the tauranga (resting place or anchorage point for a canoe) where the Makawhiua canoe first landed on Banks Peninsula bringing Ngai Tūāhuriri from the Wakatu (Nelson) region.
Koukourarata was also the site of the first Māori Anglican church. Today the church no longer stands, however a stone memorial on the site recalls its past significance to Māori of the area.
Sources
Te Maire Tau, Anake Goodall, David Palmer & Rakiihia Tau. Te Whakatau Kaupapa: Ngāi Tahu Resource Management Strategy for the Canterbury Region, Aoraki Press, 1990.
W.A. Taylor,Banks Peninsula: Picturesque and Historic, Bascands Ltd. Christchurch, New Zealand, 1948.
Beattie, H. (Herries), Māori Place-names of Canterbury, Cadonsbury Publications, 1995. (First Published 1945)