Rapanui
— Shag Rock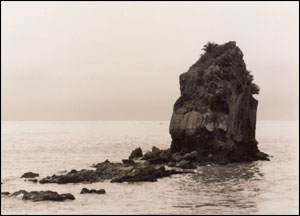 Rapanui stands vigilantly at the entrance to the Ōpāwaho/Ōtākaro (Heathcote/Avon) estuary.
This distinctive rock, known as Rapanui since Waitaha times, is one of the oldest landmarks of Te Wai Pounamu (South Island).
Rapanui means the great sternpost. It marked the way into the estuary, a guiding stone indicating the vast wetlands beyond that in pre-pākehā days extended across the present site of Christchurch as far as the shores of Waihora.
This area was once rich in shellfish, flatfish and birdlife and was a famous source of eels, waterfowl, and various types of harakeke.
Sources