Barbadoes Street Cemetery
Brief History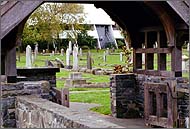 The final resting place of many of Christchurch's early leading citizens is the Barbadoes Street Cemetery, the city's oldest, first opened in 1851. The cemetery itself is divided by Barbadoes Street separating the Anglican (Church of England) section, on the eastern side, from the Roman Catholic and Dissenters (others) section on the west. The history of the cemetery is the history of early Christchurch. The stories of its beginnings and the people buried there paint a rich and varied panorama of the life lived in 19th century and into last century.
The Barbadoes Street Cemetery Preservation Society have been active in this cemetery for many years undertaking headstone restoration work.
In the early 1990's a a roofed structure known as a lych-gate was at the Cambridge Terrace entrance to the cemetery. Lych-gate is a term adopted in Victorian times and derived from the Old English "lich" meaning corpse. It was the requirement in the 1549 Prayer Book that the priest, "metying the corpse at the church style" should commence the Order for the Burial of the Dead at this entrance-way which encouraged the construction of shelters for that purpose. Sometimes the cortege had to await the arrival of the parson for some time and the provision of a lych-gate provided a sheltered place for bearers who often had to carry the shrouded body for some distance over rough tracks. Generally coffins were only available to the more affluent members of society. Many lych-gates have coffin stones or coffin stools in the middle of the gateway on which to rest the coffin whilst awaiting the priest's arrival. Bench seats were often incorporated in the construction for the comfort of the waiting bearers.
A granite plaque adjacent to the lych-gate is engraved with a map of the cemetery and information on some of the people buried there.
Related