Newsletter May 2008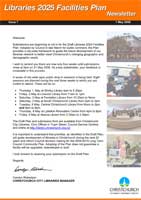 Welcome
Submissions are beginning to roll in for the Draft Libraries 2025 Facilities Plan. Adopted by Council in late March for public comment, the Plan provides a city-wide framework to guide the future development of our libraries network to better meet Christchurch's changing geographic and demographic needs.
I wish to remind you there are now only four weeks until submissions close at 5pm on 31 May 2008. As a key stakeholder, your feedback is invaluable in this process.
A series of city-wide open public drop-in sessions is being held. Eight sessions are planned during the next three weeks to which you are invited to attend. These will be on:
The Draft Plan and submission form are available from Christchurch City Libraries, Civic Offices in Tuam Street, Council Service Centres and online at christchurchcitylibraries.com
It is important to understand that priorities, as identified in the Draft Plan, will guide development of libraries in Christchurch during the next 20 years and inform Council decision making for the 2009-2019 Long Term Council Community Plan. Adopting of the Plan does not guarantee a facility will be upgraded, redeveloped or built.
I look forward to receiving your submission on the Draft Plan.
Regards
Carolyn Robertson
Christchurch City Libraries Manager