Selection and Access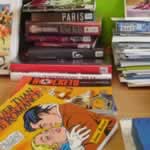 The Selection and Access team are responsible for selecting all the material that goes into our collections and cataloguing it to provide access. This includes books, magazines, audiovisual material and online resources such as our premium websites and the Overdrive collection. Christchurch City Libraries has an official Content Development Policy.
You can make a suggestion for the library's collection. There is an online suggestion form and you can also ask a librarian to fill in this form for you. It helps the selection team to consider your suggestion if you provide as much information as possible.