Devoted to the community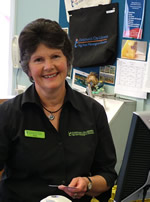 Kaye Matthews was the Associate Community Librarian (ACL) at Akaroa School and Community Library. In October 2007, she answered a few questions about her role and the work she does in one of Canterbury's most attractive locations.

How did you come to be in the job?

I have been employed at Akaroa Library for nearly 18 years – for 13 hours a week initially when the library was mostly staffed by volunteers - increasing to 30 hours a week now that we are a fully functioning member of the CCL network. I have just completed my Master of Library and Information Studies qualification this year. I love dogs – especially Border Collies – plants and nature of all kinds. I am also a keen collector of Peter McKay silver brooches!

What's the role of an (associate) community librarian?

Here in Akaroa it probably differs a little from other ACL roles as we are so isolated and I was very used to managing with little support when the library was a part of Banks Peninsula District Council.  I have a team leader role (but it is a tiny team of three), and manage the day-to-day running, as well as being part of the Upper Riccarton and Halswell teams as our library is docked to them.

Your library is based at a school – does that present challenges and opportunities for the library to interact with the wider community?

We have been a school and community partnership for 18 years – Akaroa Area School has 130 pupils from New Entrants to Year 12 – so we are quite used to helping pupils and teachers. The wider community is very supportive of the library – in the past when fundraising was required they were brilliant. We also have 35 library volunteers who shelve for us.

What are some of the most popular services in your library?

Our children's library is incredibly popular and a lovely bright colourful space. Our borrowers also appreciate the fact that we know many of them personally and can readily provide help with their reader enquiries because we know their tastes.

What do you wish people would make more use of?

The library website – I encourage people to use it for information and placing holds whenever I get the opportunity. The school pupils are mostly very good at using the catalogue and placing holds but do need encouragement to use all the other services available via the website.

Do you cater for areas such as Duvauchelle, Okains Bay, Wainui etc.?

We provide library services for all the inner and outer bays in the Akaroa area.  The other schools and preschools in the area also get collections of books from us. We play a supporting role to Little River Library – providing staff help once a fortnight and loan collections of about 600 books changed every three months.

Akaroa is well known for its French connections. What do you think gives Akaroa some of its special character?

The French street names are always a talking point and quite a few of the businesses have French names. We have a town crier who is a French descendant and parades in his French costume and carries a French flag most weekends.  However the Akaroa area is also increasingly popular as a weekend day-trip escape and we have a lot of holiday homes owned by Christchurch residents.

The town's a bustling hive of activity – what's Akaroa's best kept secret?

The library! But we are becoming more widely known outside the community and visitor numbers plus borrowers from Christchurch are delighted with the services provided now that we are part of the CCL network. We are adjacent to Akaroa Cinema and that makes for excellent synergy.

Akaroa Area School is having its 150th celebrations soon - how is the library participating in the celebrations?

The library is doing a display which highlights our history and the links with the school over the past 18 years. We will have the display up before Library Week as the school's 150th celebrations are the weekend prior.