New Zealand Music Month 2004
... for the whole of the month of May
'Borrow 3, get your 4th CD or tape hire for free' cards will be available at Christchurch City Libraries during the month of May.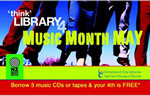 More Music stuff at Christchurch City Libraries.
Go to the NZ Music Month website for events all around the country.
Music Month Competitions
Name your top ten NZ songs and go into draw for one of 2 $30 music vouchers
Win $200 NZ CDs by answering 3 questions at your local Christchurch City Library
2 competitions for teens @ ((Pulse
FREE Music Month Events
All of these performances are free.
| | | | | |
| --- | --- | --- | --- | --- |
| | | Date | Time | Library |
| Mea | Amiria Grenell - a well known Christchurch female singer, brings her own brand of original "folk, mellow type" music. | 1 Saturday | 1pm | Central Library, Ground floor |
| Jon Hooker & Hugh Campbell | Jon is a guitar teacher and performer with many album credits. Jon and Hugh play acoustic guitar duets. | 1 Saturday | 1pm - 2pm | |
| Julia Townsend | Julia is the world's newest popera diva and is being tipped as the next Hayley Westenra. The Christchurch teen will soon begin recording her first" album with Sony. | 1 Saturday | 2pm - 3pm | |
| Steve Oskam | Singer/songwriter who will be performing covers and some original songs. | 2 Sunday | 2pm - 3pm | |
| The Danny Boys | Contemporary Celtic Folk. This trio plays piano-accordian, fiddle, tin whistle and guitar. | 3 Monday | 6:30 - 7:30pm | |
| Music production studio demo | Try out the Rockshop's production studio setup. A music specialist" will be on hand. | 6 Thursday | 3 - 5pm | |
| Family Internet Thursday - Big Night In | A family internet" evening where families can explore music on the internet. Bookings are essential, phone 941 5140. | 6 Thursday | 6pm - 7:30pm | |
| Lunchtime Concert" | New Zealand artists playing original music. | 7 Friday | 12:15 - 1:15pm | Cathedral Square |
| Derek Spooner | Singing and playing acoustic guitar. | 8 Saturday | 11am - 12noon | |
| Julia Townsend | Julia is the world's newest popera diva and is being tipped as the next Hayley Westenra. The Christchurch teen will soon begin recording her first" album with Sony. | 8 Saturday | 11am - 12noon | |
| Mea | Amiria Grenell - a well known Christchurch female singer, brings her own brand of original "folk, mellow type" music. | 8 Saturday | 1pm | Central Library, 2nd floor |
| James Wilkinson | James has been a Christchurch institution for many years. He is a producer, phenomenal guitarist" and a stunning fretless bass player who sings well too. James has played with Hampster, Rua and countless other bands and has umpteen album credits. | 8 Saturday | 1pm - 2pm | |
| The Danny Boys | Celtic folk trio. They regularly play at" Bailies bar. | 9 Sunday | 2pm - 3pm | |
| Phil Garland | Iconic folk legend of New Zealand playing NZ folk music. | 13 Thursday | 4:30 - 5:30pm | |
| Music production studio demo | Try out the Rockshop's production studio setup. A music specialist" will be on hand. | 13 Thursday | 3 - 5pm | |
| Panel Discussion - "What it takes to make it in the music business" | A panel featuring professional performers, studio executives and educators will discuss the topic and then take questions from the audience. | 13 Thursday | 7pm | Central Library, 2nd floor |
| Lunchtime Concert" | New Zealand artists playing original music. | 14 Friday | 12:15 - 1:15pm | Cathedral Square |
| Liz Sugrue | Original songwriter and guitarist" with a voice like an angel. | 15 Saturday | 1pm | Central Library, Ground floor |
| Greg Malcolm | Performing strange and beautiful music. Plays an adapted guitar. Toured Europe last" year. | 15 Saturday | 1pm - 2pm | |
| Jon Hooker & Hugh Campbell | Jon is a guitar teacher and performer with many album credits. Jon and Hugh play acoustic guitar duets. | 15 Saturday | 2pm - 3pm | |
| Andy Thompson | Solo guitarist" playing original music. | 16 Sunday | 2pm - 3pm | |
| Graham Wardrop | Guitar Virtuoso using finger-style. | 18 Tuesday | 6:30 - 7:30pm | |
| NZ Army Band Quintet" | A programme of favourite children's music designed to entertain and educate. Instruments include c ornets, tenor horn, trombone and tuba. Family friendly. | 19 Wednesday | 6:30 - 7:30pm | |
| Lunchtime Concert" | New Zealand artists playing original music. | 21 Friday | 12:15 - 1:15pm | Cathedral Square |
| Alexandra Read | Talented young Christchurch singer performing a medley of songs. | 22 Saturday | 11am - 12noon | |
| Skylite | A Jazz trio. | 22 Saturday | 1pm - 2pm | |
| Sparky's Cosmic Journey | Christchurch band who play crazy, pop, rock and dance music. | 23 Sunday | 2.00-3.00pm | New Brighton Library (outside somewhere) |
| Greg Malcolm | Performing strange and beautiful music. Plays an adapted guitar. Toured Europe last" year. | 27 Thursday | 6:30 - 7:30pm | |
| Lunchtime Concert" | New Zealand artists playing original music. | 28 Friday | 12:15 - 1:15pm | Cathedral Square |
| Christchurch City Libraries Waiata group | Christchurch City Libraries own waiata group celebrating the gift" of music and Te Reo Maori. | 28 Friday | 12:30 | Central Library, ground floor |
| Greg Malcolm | Performing strange and beautiful music. Plays an adapted guitar. Toured Europe last" year. | 29 Saturday | 11am - 12noon | |
| Sonas | Female folk duo - Caroline Armstrong and Kathryn Nordmeyer. Fabulous voices and talented songwriters - who have performed regularly on the Christchurch scene. | 29 Saturday | 1pm | Central Library, 2nd floor |
| Davy Stuart & Helen Webby | Celtic music. Davy Stuart" plays mandolin and accompanies Helen who plays harp with the CSO. The library has their album,"Peacock's Dance". | 29 Saturday | 1pm - 2pm | |
| The Danny Boys | Celtic folk trio. They regularly play at" Bailies bar. | 30 Sunday | 2pm - 3pm | |