The Mobile Library timetable - a new look
About the Mobile Library service
The Mobile Library plays an important role in connecting the community with a range of library services, and is responsive to changing community needs.
Much has changed since the last update of the Mobile Library timetable - including three new libraries opening, development of online and phone services, and greater internet use by library users.
A recent review of the Mobile Library, as part of the implementation of the Libraries 2025 Facilities Plan, reinforced the need to:
Use the Mobile service in areas where there are no physical libraries, or where they don't meet community needs and are due for redevelopment.
Respond to areas of social need, and resulting patterns of limited mobility.
Locate Mobile service stops at community gathering points, where there is good visibility, easy parking, and safe access for customers.
Stop in the vicinity of social housing complexes, where the location fits with other criteria.
Make all service stops 45 minutes long so that there is an opportunity to engage with the community in a more consistent manner.
Avoid peak traffic.
We are proposing a fortnightly timetable for the Mobile Library, with regular stops on 8 out of 10 weekdays. At other times the Mobile Library will be used to support programmes and events in the community, such as family days and events for older adults.
Below you will find our proposed new timetable.
Have Your Say
We invite you to make suggestions that may improve the proposed service while still meeting the service criteria outlined above. Please post your comments to:
Freepost 178, Christchurch City Libraries,
PO Box 1466, Christchurch Mail Centre,
Christchurch 8140.
Attention: Community Libraries Manager.
Or submit your feedback online at the Council website www.ccc.govt.nz/haveyoursay. You can also email your thoughts directly to consultation@ccc.govt.nz.
We need to receive your feedback by 28 August.
More information (including maps of the current and proposed Mobile Library schedules) is available at all Christchurch City Libraries, the Mobile Library, and http://christchurchcitylibraries.com or phone (03) 9417923.
We will advise of the outcome of this consultation, and the finalised new timetable to all those who send us their views (and contact details) and through information on our website, at our libraries, and placed in the Mobile Library itself.
Summary of changes
At present the Mobile Library visits 33 locations on a regular basis. Three of the existing locations (Cutts Rd, Merrin St and Staveley St in Avonhead) are visited twice a week. All other stops are visited once a week. This timetable leaves little opportunity for the Mobile Library to participate in community programmes and events.
Using the proposed timetable:
35 locations would be visited at least once a fortnight (some stops in areas more distant from a library site or in identified areas of need, and considered to be the best/only parking option in the area will be visited twice a fortnight).
16 existing stops would continue to be used or be replaced by stops nearby that offer better parking options.
17 of the existing stops would be discontinued because they are in an area served by an existing library. These stops are in Avonhead (2), Ilam (1), Upper Riccarton (3), Riccarton (1), Bryndwr (1), Merivale (1), Edgeware (1), Richmond (1), Dallington (2), Burwood (1), New Brighton (1), Sydenham (1), Waltham (1).
19 new locations would be used, to address identified service gaps.
The Mobile Library would have increased participation in community programmes and events.
The final positioning of stops is subject to consultation with adjacent land owners and the approval of the relevant Community Boards. There may be some minor changes to locations that result from this process.
Proposed timetable
Stops marked with an * are at or near existing Mobile Library stops.
Week one
Monday
Tuesday
Wednesday
Thursday
Friday
Weekend
Aranui – McCormacks Bay – Redcliffs
Templeton – Hei Hei – Russley – Avonhead
Mobile Library service delivered through community outreach, programmes and events
Spencerville – Brooklands – Kainga – Belfast
Halswell – Oaklands – Aidenfield – Hoon Hay – Hillmorton
Mobile Library service delivered through community outreach, programmes and events

Hampshire St near Community Centre*

Breezes Rd, between Pages Rd and Doreen St*

Wainoni Rd, between Breezes Rd and Shortland St, near supermarket

Ferry Rd, between the roundabout and Charlesworth St

McCormacks Bay Rd near Soleares Ave*

Main Rd, Redcliffs between Augusta St and Taupata St

Kirk Rd near Templeton School*

Hei Hei Rd between Buchanans Rd and Tirangi St, near St Aidens Church

Hei Hei Centre near Wycola Park

Cutts Rd near Russley School*

Merrin St near Avonhead Mall*

Spencerville*

Brooklands*

Kainga*

Richill St, between Main North Rd and Tyrone St*

Englefield Rd, between Connemara Dr and Sefton St*

Nicholls Rd between Halswell Rd and Rearsby Dr, near Halswell shopping centre

Balcairn St between Ensign St and Revell St

Bibiana St between Aidanfield Dr and Gabriel Grove, near Kinsella Crescent playround

Rowley Ave near Rowley School*

Lincoln Rd between Annex Rd and Sylvan St*

Torrens Rd near social housing complex*
Week Two
Monday
Tuesday
Wednesday
Thursday
Friday
Weekend
Aranui – Avondale – Wainoni
Spencerville – Brooklands – Kainga – Belfast
Mobile Library service delivered through community outreach, programmes and events
Halswell – Westlake – Oaklands – Hoon Hay – Hillmorton
Ferrymead – Heathcote – Opawa – Woolston
Mobile Library service delivered through community outreach, programmes and events

Eureka St near Wainoni School*

Hampshire St near Community Centre*

Breezes Road between Pages Rd and Doreen St*

Shortland St between Tahuna St and McHaffies Pl

Breezes Rd near Chisnallwood shops*

Wainoni Rd between Breezes Rd and Shortland St, near supermarket

Spencerville*

Brooklands*

Kainga*

Wendon Mews between Thompsons Rd and Pentland Dr (bus stop visible on Main North Rd)

Crombie Green near Englefield Reserve Englefield Rd between Connemara Dr and Sefton St*

Nicholls Rd between Halswell Rd and Rearsby Dr, near Halswell shopping centre

Lancewood Dr between Nottingham Ave and Westlake Dr

Ensign St between Balcairn St and Cunningham Pl

Rowley Ave near Rowley School*

Tankerville Rd near Hillmorton High School Torrens Rd near social housing complex*

Bridle Path Rd between Ferry Rd and Cannon Hill Cres

Martindales Rd between Malthouse Lane and Port Hills Rd

Opawa Rd between Grange St and Garlands Rd

Opawa Rd between Reeves Rd and Cholmondeley Ave

Rutherford St near walkway to Bamford St
Route Maps
Current Mobile Library Routes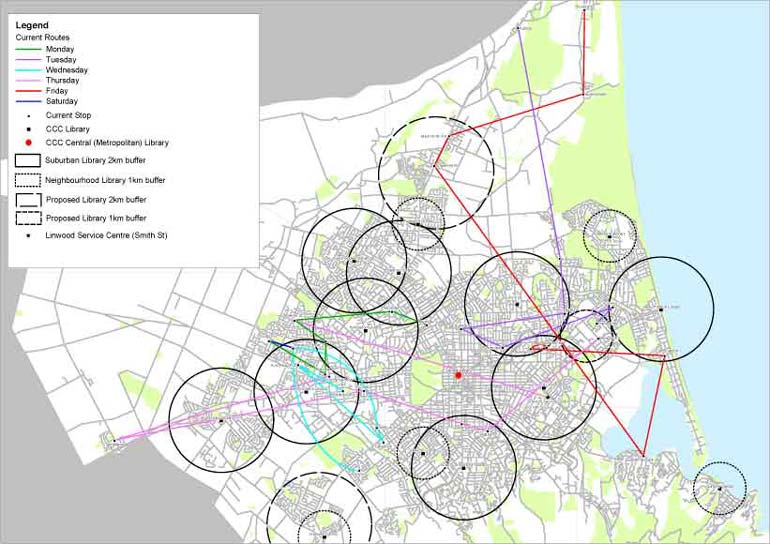 Download this image of the current Mobile Library routes [593kb PDF]
Proposed Mobile Library Routes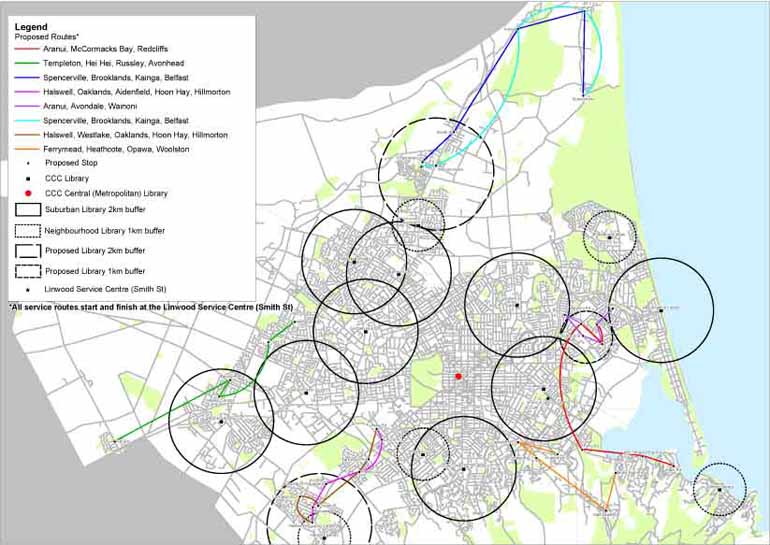 Download this image of the proposed Mobile Library routes [594kb PDF]