Anniversary bonus for Libraries' book sale
Please note
Information contained in media releases is correct at the time, but may change after publication. Please check the Library News page for latest updates about library services or contact us, ph: 9417923.
15 May 2009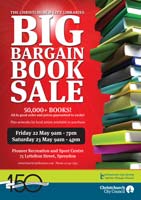 As the Christchurch City Libraries celebrates its 150th Anniversary, its annual book sale next week is gearing up to be the biggest ever in its 23 year history.
In addition to the 50,000 cancelled stock priced $3.00 and below, the sale is offering over a thousand premium art books at very affordable prices for the first time.
And also for the first time, the Big Bargain Book Sale this year will offer artwork by local painters at the May 22 and 23 sale. This is in keeping with the art-themed approach we have decided for the sale this year, says Lindsay Dell, Transport & Maintenance Team Leader at the Bindery.
A 100 metre squared space at the Pioneer Leisure Centre has been set up to exhibit paintings from Christchurch's Landscape Art Group, the 25 year old organisation for hobby painters who will showcase about 125 of their works.
Mr Dell is looking at including other themed additions to the annual sale, depending on the success of the arts exhibition this year: science stalls, sports exhibitions and cooking displays are some of the possibilities, as is a New Zealand-only books section.
The revenue from the book sale is used in buying new books to keep the CCL stock up-to-date, he says. The collection for sale includes withdrawn books from the 20 city-wide libraries, which Mr Dell and his team sort, categorise and price during the year for the annual sale at Pioneer.
Last year over 6000 people came to the sale, with early birds lining up at the Pioneer entrance two hours before opening time to get the best bargains.
Pioneer Leisure Centre
75 Lyttelton Street, Spreydon,
next to Centennial Park.
May 22 Friday: 9 am to 7 pm
May 23 Saturday: 9 am to 4 pm
The Landscape Art Group Exhibition
Over 125 paintings by local artists. Displayed on double-sided stands.
Exhibitions include watercolours, acrylics and oils. Landscape Art group is an exhibiting group.
Prices:
Framed - $50 - $200
Unframed - $15 and above
Artwork sizes: A4 to 24 X 30 cm canvases