Beca Heritage Week, 21-31 October 2010
Heritage Week is an annual event, core funded by the Christchurch City Council, with support from local sponsors including principal sponsor since 2007, Beca.
2010 theme: On the Horizon: rediscover the settlement of our City
This year's theme highlighted the early encounters and discoveries that helped shape Christchurch and Canterbury.
Bring us your photos of Christchurch as it has grown over the years, and the changing faces of the people who live, celebrate and live here — and you could go in the draw to win!
Read about the winners of the Christchurch City Libraries 2010 Photo Hunt competition. Here's links to the entries:
Family History Month
Christchurch City Libraries is celebrating a month of Family History — with events including workshops and cemetery tours.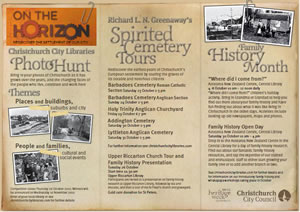 See more brochures and bookmarks.
Find out more about Christchurch heritage
Christchurch City Libraries' heritage resources provide you with information about Christchurch's history, its people and places and also help in finding out about your own heritage and family history.
More information
Previous Heritage Week celebrations