What is The Odyssey?
Odyssey n. A series of wanderings; a long adventurous journey.
Read four books and be in to win an iPod and other prizes. Prize winners will be invited to collect their prizes at a special event.
The Odyssey will run from July 11 until August 7 and is open to people aged 13 - 18 years old.
Collect an entry form from your nearest Christchurch City Library or download one from here.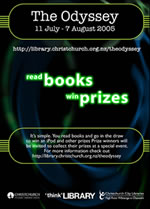 Need some good reading ideas? Click here for suggestions.
Odyssey Readers' Suggestions
Share your best reads with others. We'll add your recommendations to this list.
I enjoyed it heaps. One of my best reads ever.
Gabriel, 14
Very very very good and a bit scary.
John, 12
It was really good.
Robin, 13
Great book.
Tish, 13
Critically Acclaimed author Julie Anne Peters really shows the other side of being a teenager and being transsexual. Being transsexual myself i find that she captures what it feels like to be transsexual. I found it very interesting and a fantastic read and would give it high reccommendations.
Jennifer, 16
i found it quite interesting to read. She really put in some effort to make this story a bit interesting and i am sure that other young teenagers will enjoy reading this book! You go girl!
Samantha, 15
Top authors to try
Top Odyssey authors this year include:
| | |
| --- | --- |
| New Zealand | International |
For more great reading ideas check out the top 10 reads for guys and gals on ((Pulse ((Auaha.
Or more booklists