New Zealand Book Month 2008
September 2008
NZ Book Month is a non-profit initiative that has the whole book industry behind it, from writers and publishers to bookshops and libraries. Quite simply, the idea is to get more of us reading New Zealand books - to celebrate and showcase the brilliant writing talent we have, to support new and upcoming writers in our country, to tap into the pride we feel in our literary landscape and show you that whatever your taste, there's a fantastic New Zealand book for you.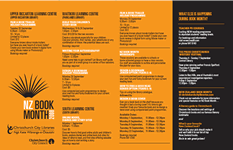 What's your favourite NZ book/books?
Was The Bone People the best NZ book you've ever read? Or was it Mister Pip? Or The Edmonds Cookbook? This is your chance to have your say in honour of New Zealand Book Month: Tell us what your top New Zealand reads are and you will you will go in the draw to win a copy of 1001 Books you must read before you die, a copy of the Six Pack signed by all six writers and a $50.00 book voucher courtesy of NZ Book Month or other book vouchers.
Competition closed 30 September 2008. You can see the list of favourites here.
Winners
Philip Morgan, Rebecca Hill, Ngaire Matthews, Jean Britt, Vicki Ham, Colleen Stuart, Karley Johns, Andrew Gardiner, Roy Britten, Kim Salomonson, Sharon Biddington, Kerryann Murphy, Nelly Tennent, Mahara Tahuhu, David Morgan, Tracey Gibbs
(Thanks to the New Zealand Book month team for $50 voucher and a signed copy of the Six Pack).
2008 events
Library resources about New Zealand Authors
The libraries' website lists the winners of some key New Zealand book awards & childrens' book awards.
Childrens' Authors
Our childrens' librarians have compiled extensive interviews with a who's who of children's writers in this country and short stories from well known writers are published on our website at New Zealand Children's Authors Interviews & Stories.