Central Library improvements
Please note
Information contained in media releases is correct at the time, but may change after publication. Please check the Library News page for latest updates about library services or contact us, ph: 9417923.
26 April 2010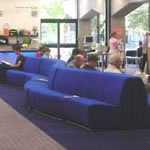 It will be business as usual during major maintenance work at Christchurch's Central Library, Gloucester Street, starting next week (the first week of May).
A quieter and more reliable escalator will be installed between the ground floor and first floor and new carpet will be laid on the ground floor.
"The current carpet and the escalator are coming to the end of their functional lives," says Libraries and Information Manager Carolyn Robertson. "With a new escalator we anticipate fewer interruptions due to breakdowns, which will also impact positively on our budget. The new carpet will provide an invigorated, fresh look."
Adhesive for the carpet has been partly selected for its low-odour and eco-friendly properties.
Most of the work - which is expected to take a month - will be done at night to minimise disruption to Central Library users. It has been timed for between school holidays and was reliant on consent for the escalator and its manufacture and shipping.
During May people will need to use the lift or stairs between the ground and first floors and the young adult collection and some seating will be moved temporarily. Library staff will be on hand to help redirect customers.
There will also be a temporary road closure on Gloucester Street on the night of either 10 or 11 May when the escalator is delivered.