NZ Music Month Christchurch Launch Event
Please note
Information contained in media releases is correct at the time, but may change after publication. Please check the Library News page for latest updates about library services or contact us, ph: 9417923.
28 April 2010
Soul, funk and jazz singer Sacha Vee headlines a stunning line-up of local and national acts this Saturday, as Christchurch Art Gallery launches New Zealand Music Month in style.
The free event, organised in collaboration with Christchurch City Libraries, kicks off at 5pm in the Gallery foyer with the catchy bubblegum pop of young Christchurch folk and skiffle singer-songwriter Kim K (ex-Aviatour) and Tim Chesney. The 40-strong men's choir, Canterbury Plainsmen will then follow, giving Kiwi pop classics the barbershop treatment.
Andrew Grieve of The Canterbury Plainsmen says for people who love harmony, the song Slice of Heaven is a song that has it all. "From the Ba da da intro to the crooning of Howdy Angel in the chorus, there's nothing quite like this piece of kiwiana music made especially for barbershop style."
The entertainment continues with Auckland act Steve Abel, who attracts comparisons to Nick Cave and Tom Waits.
"Its great to be invited to Christchurch for the New Zealand Music Month launch this year," says Steve. "Cantabrians have always demonstrated a keen intellect and discerning ear when we've played there and so it's a pleasure to be back with some new and old songs."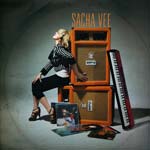 Sacha Vee - image by Tim Watson
The evening then wraps up with Christchurch neo-soul artist Sacha Vee, a distinctive vocalist making big steps in the New Zealand music scene. Fresh from her successful debut New Zealand EP release, Sacha Vee is known for her soulful collaborations with Pacific Heights, Oval Office and Departure Lounge.
"I'm so honoured to be kick-starting New Zealand music month at the Christchurch Art Gallery this Saturday," says Sacha.
"Musicians often feel like they are faced with a 20 foot wall when they endeavour to bring their original music to the forefront of the industry. It's important events like these that make the whole process of getting your music heard so worth it."
Acting Gallery Director Neil Semple says it's great to be hosting the official launch event. "We are proud to be part of an event that promotes the vibrant arts scene that exists here in Christchurch."
The line-up at a glance:
5 – 5:40pm: Kim K and Tim Chesney
5:50 – 6:10pm: The Canterbury Plainsmen go pop
6:15 – 6:55pm: Steve Abel
7 – 8:30pm: Sacha Vee
Following the launch this weekend, audiences can catch over 50 free performances across the libraries network throughout May.
New Zealand Music Month launch - Christchurch Art Gallery Te Puna o Waiwhetu, Worcester Boulevard, Christchurch - Saturday 1 May, from 5pm- 8.30pm.