Libraries 'Where did I come from' activity now offered throughout October
Please note
Information contained in media releases is correct at the time, but may change after publication. Please check the Library News page for latest updates about library services or contact us, ph: 9417923.
7 October 2010
Christchurch City Libraries has extended its family history activity programme for children till the end of the month.
"Where did I come from", which offers children over seven years a chance to find out more about Christchurch's history and the great resources held at the Central Library, is now available throughout library hours until October 30.
The fun-filled investigation, which was offered only for two hours a day previously, was to have ended this Friday. "Where did I come from" is part of the Libraries' Heritage Week celebrations which runs alongside the Beca Heritage Week celebrations with the theme: On the Horizon – rediscover the settlement of our city.
Manager Libraries and Information, Carolyn Robertson, says it was apparent a lot of families were away for the holidays and it was hoped that the new hours and the extension to the end of the month would see more families using the facilities after school or at the weekend.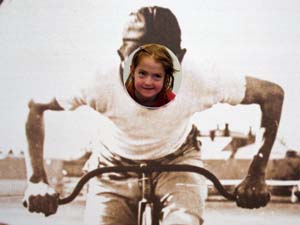 Caption: Leah Thompson, who did family history investigation at the Central Library on Monday with her brother and sister, is photographed as an Edwardian cyclist.
Children, under the supervision of adult family members, can look up old newspapers, maps and photos to find out Christchurch's history and the role their family played in it, says Mrs Robertson.
Other family history programmes are being offered until the end of the month.
1. "Where did I come from" – children's holiday activity
Till October 30 – Library hours at Central Library
2. Family History workshops– using the Libraries extensive resources at Central Library
October 12, 7pm - 9pm
October 15, 10am – 12pm
3. Whakapapa workshop – resources at Central Library
October 12, 2pm – 3 pm
4. Ancestry Plus Workshop
October 19, 7-9pm
5. Family History Open Day – all – day family history research at Central Library October 30, 10am – 4pm
The Family History Open Day is an opportunity for people to drop in to the Aotearoa New Zealand Centre in the Central Library for a day of family history research. Participants will be able to find out about the Library's fantastic family history resources, and tap the expertise of the trained and enthusiastic staff to either start growing their family tree or to add another branch or two.
* The Department of Internal Affairs will be holding an igovt ID sign-up session during the day, enabling people to order Birth, Death and Marriage non-historical records online.