Autumn Reading Competition - E Pānui Tokerau ana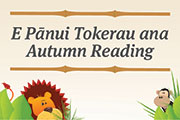 The Autumn Reading Competition is finished for 2014. Congratulations to the winners:
Anthony from Hei Hei
Michelle from Cotswold School
How it worked
The competition featured the New Zealand Post Book Awards for Children and Young Adults. The prize was a day trip to Orana Park for your class or family.
There were three ways to win:
Enter your details in our competition form and be in to win a family pass to Orana Park.
Get your teacher to enter your class to win a class trip to Orana Park. Only teachers can enter this competition on behalf of their class.
Visit the Christchurch Kids Blog and post a comment, review, poem or photo of something you've created inspired by the amazing New Zealand Post Book Awards for Children and Young Adults finalists.
Christchurch City Libraries love the awesome New Zealand Post Book Awards for Children and Young Adults.
Downloads
Terms and conditions
You must be Year 0 – 8 (inclusive) and live in the Christchurch City Council area. Teachers must teach the Year 0 – 8 class in the Christchurch City Council area they are entering.
The competition opened Tuesday 8 April and closed Friday 23 May.
You could enter the individual and class competitions only once, but you can enter the Christchurch Kids Blog competition as many times as you like.
A family pass for Orana Park is for two adults and up to three children. The class prize includes transport to and from Orana Park.
If you win a prize, you must reply to our contact within one week to claim your prize. So keep an eye on your email and phone.
Any photos should be emailled to competition@christchurchcitylibraries.com. Sending us a photo means that you are giving us permission to use it for promotional purposes.
Christchurch City Libraries reserve the right to use the name and residential suburb of the winners, and images supplied by entrants, for promotional purposes.