Central Library / Te Kete Wānanga o Ōtākaro
Donated quilt carries colourful message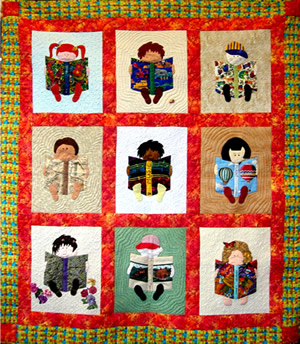 A colourful quilt donated to the Christchurch City Libraries urges children to discover the joys of reading. Named "Make Time for Books", the quilt has been partially handcrafted and partly machine-sewn by 11 members of the Sew 'n' Sews Friendship Group.
It currently hangs in the entrance hall of Central Library on Gloucester Street although it may travel around the different community libraries in the near future. "It is a wonderful gift and we are delighted to have this quilt in the library," says Central Library manager Bev Prout. "A lot of hard work has gone into it and there are a lot of funny details incorporated in it. It has certainly brightened up the entrance area to the Centre for the Child."
The members of Sew 'n' Sews met during an introductory quilt course in 1997 and set up their own friendship group shortly afterwards. They are affiliated with the Canterbury Patchwork and Quilting Guild and meet once a month at one of the member's homes to catch up and check on the progress on each other's various projects.
"Once a year, we make a charity quilt," says Sew 'n' Sews member Joy Judd.
"So far, we have made them for refugees and for the Ronald McDonald Children's Homes in Auckland and Christchurch. We saw the pattern for this quilt somewhere else and decided to make it and give it to the library and hopefully encourage children to read."
The brightly coloured quilt shows nine children of different nationalities reading a variety of books showing the fun that can be had with reading. The multi-cultural theme of the quilt reflects the different nationalities of the Sew 'n' Sews which include New Zealand, Korea and Taiwan. The quilt is a collaboration between Helen Barry, Anita Beardsley, Fiona Chan, Pat Crombie, Anne Groufsky, Sylvia Hall, Elaine Hodgson, Shu Ya Huang, Sue Kim, Jill Newton and Joy Judd.
Related links