Minutes drawn up by the First body of the Canterbury Colonists at their rooms 1A Adelphi Terrace [London], 1850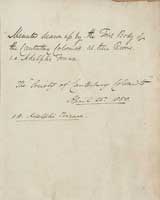 Summary Minute book for the Society of Canterbury Colonists, a group established in London for the settlement of Canterbury, New Zealand. The minutes of the society continue as the Society of Purchasers of Land in Canterbury; the Society established when the settlers arrived in Lyttelton.
Archive 16 contains two versions of the minutes; the original, handwritten volume, and a typescript copy. A transcript of the minutes was created in 1953 by C.R. Staubel, and gifted to the Canterbury Public Library.
The minutes of the London meetings of the Society run from April 25th to August 15th 1850. The minutes include acknowledgment of gift of books that became part of the library of the college library; setting of fares; the take up of ship cabins; discussions on the name of the capital town of the settlement; the establishment of a paper. The first meeting minuted after arrival is December 20th, 1850. The Society reconvened as the Society of Land Purchasers in the Canterbury Settlement in 1851. The minutes of Land Purchasers meetings, held in Christchurch, start from early 1851. The final meeting in the minutes book is dated January 22nd, 1852.
Collection location Archive 16
Publication information Unpublished
Digitised items
This material has been digitised from the Archives and Manuscripts collection of Christchurch City Libraries.
Copyright and other restrictions
This material has been provided for private study purposes (such as school projects, family and local history research) and any published reproduction (print or electronic) may infringe copyright law. Please contact Christchurch City Libraries if you have any questions relating to the use of this material. It is the responsibility of the user to obtain clearance from the copyright holder.