Diary written on board the
Randolph

, at Opawa and at Southbridge, 1850-1865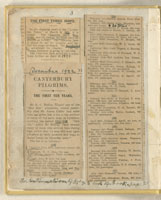 Summary Diary of Charles Joseph Bridge, covering his outward voyage to Lyttelton on the Randolph and early life in Canterbury at the Homebrook run, near Lake Ellesmere, from 1850-1865. The diary includes various newspaper clippings and notes on family.
Collection location Archive 205
Publication information Unpublished and published material
Additional information
Charles Joseph Bridge (born 1821 or 2, died October 1876). Charles Joseph Bridge arrived at Port Victoria (Lyttelton) on the Randolph in 1850. He farmed first at Opawa and then, from 1862, at Southbridge.
An original manuscript (bound). Full title: Diary written on board the Randolph, at Opawa and at Southbridge, 1850-1865, with added press clippings and genealogical details.
Related pages
This material has been digitised from the Archives and Manuscripts collection of Christchurch City Libraries.
Copyright and other restrictions
This material has been provided for private study purposes (such as school projects, family and local history research) and any published reproduction (print or electronic) may infringe copyright law. Please contact Christchurch City Libraries if you have any questions relating to the use of this material. It is the responsibility of the user to obtain clearance from the copyright holder.