War diary, 1915-1916 by H. H. Stephens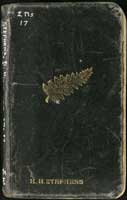 Summary The World War I diary of Herbert Harold Stephens, of Sydenham, Christchurch. Entries in the diary by Herbert Stephens cover the period from August 13, 1915 to November 16th, 1916. The later entries are in the first part of the diary.
Collection location Archive 211
Publication information [Unpublished]
Biographical note
Private H.H. Stephens from Sydenham, Christchurch, joined up and was stationed in C Company, Infantry, of the First New Zealand Expeditionary Force. He departed for the war zone from Wellington on Saturday 14 August 1915, as a member of the Sixth Reinforcements. The echelon departed from Trentham Military Camp, arrived at Albany, Western Australia, on 24 August and Aden on 13 September, and disembarked at Suez on 19 September 1915. On 25 September, the reinforcements sailed for Gallipoli from Alexandria, landing on the Greek Island of Lemnos four days later.
Private Stephens's war quickly became a personal battle against dysentery which took him to England and hospital. On 9 May 1916 Private Stephens arrived at the Western Front near Armentieres. On 10 July he was wounded and again evacuated to the Middlesex Hospital in England. The last entry of Private Stephens's diary while he was still in England was 14 November 1916.
A photographic print bearing the caption, 'July 1916. George out shooting with his work mates' is mounted on p. [9] of the diary.
This material has been digitised from the Archives and Manuscripts collection of Christchurch City Libraries.