Journals, 1906-1951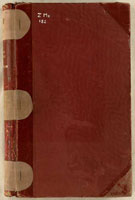 Summary Two manuscript journals. One journal (1934-1935) is an exercise book relating the tramp to the headwaters of the Arawhata River (South Westland) and the climbing of Mount Ionia. The other journal (1930-1935) contains accounts of climbing in New Zealand, press clippings, a map and other inserts (1906-1951).
Collection location Archive 376
Publication information Unpublished and published material
Additional information
Henry Newton was well-known as a climber in New Zealand before the first World War.
Henry Edward Newton (1873-1961) served as vicar of Ross, Kaniere diocese from 1901 to 1907, and then returned to England. He was Canon of York, 1923-1946. In 1934-1935 Henry Newton returned to explore and climb for five months in the Southern Alps in South Westland, his party making the first ascent of Mt Ionia, from the Arawhata River.
The two manuscripts are part of the Newton Collection, part of a bequest by Henry Newton of books, maps and pamphlets relating to New Zealand mountaineering deposited in the Canterbury Public Library by his executor, Rev. J. Osmers, 2 May 1962.
This material has been digitised from the Archives and Manuscripts collection of Christchurch City Libraries.
Copyright and other restrictions
This material has been provided for private study purposes (such as school projects, family and local history research) and any published reproduction (print or electronic) may infringe copyright law. Please contact Christchurch City Libraries if you have any questions relating to the use of this material. It is the responsibility of the user to obtain clearance from the copyright holder.