Canterbury's demonstration on the departure of the N.Z. Rough Riders for South Africa, Hagley Park, Saturday Feb. 17, 1900.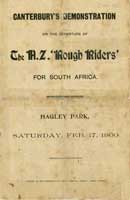 Summary The programme and the order of events for the farewell of the Canterbury contingent of the New Zealand Mounted Rifles held in Hagley Park.
Collection location Archive 638
Publication information Published, 1900
Additional information
This contingent of the New Zealand Mounted Rifles, called the Rough Riders, were the third of ten contingents who enlisted for the Boer War. As well as their Hagley Park farewell, these men had a luncheon, songs and speeches in Lyttelton, and their troopship, the Knight Templar, was escorted from Lyttelton by a marine procession of steamers, yachts and other vessels. New Zealand sent ten contingents of New Zealand Mounted Rifles to the Boer War. The third (from Canterbury) was called the Rough Riders.
This material has been digitised from the Archives and Manuscripts collection of Christchurch City Libraries.
Copyright and other restrictions
This material has been provided for private study purposes (such as school projects, family and local history research) and any published reproduction (print or electronic) may infringe copyright law. Please contact Christchurch City Libraries if you have any questions relating to the use of this material. It is the responsibility of the user to obtain clearance from the copyright holder.
Related Material
A guide to information about the men and women who served in the New Zealand armed forces during the South African War, 1899-1902.

From our photograph collection:

A Canterbury trooper, 3rd New Zealand Mounted Rifles (Rough Riders), preparing to depart for the Boer War (1899-1902)
A memorial service for Canterbury officers and soldiers killed in the South African Boer War, Victoria Square, Christchurch, [1 June 1913]
Websites in our Internet gateway related to the 'Boer War'.