Photographs, 20th century, Albert North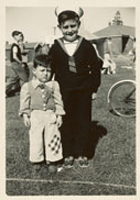 Summary The collection consists of 133 photographs, 128 of which are by North (1912-2008), and 5 by an unknown photographer. 79 of these photographs have been digitised. Camera ownership was expensive in the early 20th century, and street photographers such as Albert James North made a living from photographing people at public events. He specialised in taking candid shots at Christmas parades, school fairs, the Agricultural & Pastoral show, and the beach. People would order copies, which he would then develop and print.
Collection location Archive 978
Publication information Unpublished
Additional information
Born in Dunedin on 26th August 1912, North and his family moved to Christchurch in the 1920s. He spent most of his working life in the city, and its people, parks, beaches, bridges and streets became the focus of his photographic work. North enlisted in the 2nd N.Z. Expeditionary Force in 1940 and was captured in 1942. He spent the rest of the war interred as a prisoner of war, an experience which adversely affected his health, and resulted in him becoming a part-time photographer. After the war he found solace in his photographic studies, with Lyttelton Harbour becoming his favourite subject matter.
This material has been digitised from the Archives and Manuscripts collection of Christchurch City Libraries.