The Summit Road : its scenery, botany, and geology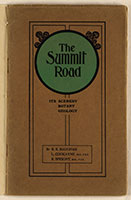 Summary The booklet contains articles by Blanche Baughan, Leonard Cockayne and Robert Speight on various aspects of the Summit Road, with an introduction by Harry Ell, and a brief mention of the work of the Summit Road Association. The booklet contains illustrations, panoramic profiles of the Port Hills, and a relief map.
Collection location ANZC Research Collection
Publication information Christchurch : Smith & Anthony, 1914.
This material has been digitised from the collection of Christchurch City Libraries.
Copyright and other restrictions
This material has been provided for private study purposes (such as school projects, family and local history research) and any published reproduction (print or electronic) may infringe copyright law. Please contact Christchurch City Libraries if you have any questions relating to the use of this material. It is the responsibility of the user to obtain clearance from the copyright holder.