The Bricks: painting of the first settlement on the Plains, 1851 / Durey, John, 1833-1920.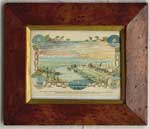 This is an early Christchurch Press lithograph of J. Durey's watercolour painting of The Bricks in the winter of 1851.
From the print: The Bricks was the first settlement on the Plains. During the winter of 1851 the following were the residents there, looking from left to right: Messrs. Jollie, Durey, Anderson, and Inwood.
The Bricks was a landing place on the south bank of the Avon near the present Barbadoes Street bridge. It was named in 1843 when the Deans brothers were obliged to leave bricks for the Riccarton House chimneys there to be brought by cart, as their whaleboats could go no further by river. It became the site of the Plain's first settlement (four houses and tents) as the picture shows. The early surveyor Edward Jollie lived there, in a grass house originally built by Sydney Scroggs, and in the neighbouring houses were his assistants, as well as John Anderson, blacksmith (later of Anderson's foundry), John Durey, an early settler and farmer and the painter of this picture, and William Inwood, early settler and miller.
Reference: CCL Archive 655
View The Bricks: painting of the first settlement on the Plains, 1851 [1.2 MB PDF]