Cecil Malthus : World War I papers [letters, telegrams, documents]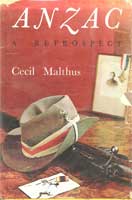 Timaru-born Cecil Malthus wrote two books about his war-time experiences. Born in 1890, he spent three years in service in the 1st Canterbury Battalion from 1914.
The Canterbury College modern languages professor first published ANZAC: A retrospect in 1965. In the foreword of the book he wrote:
I offer nothing but the truth for those who want to know what the war was like for the average man. Readers can believe that whatever I relate of my own experience is very nearly the same as what happened to their own uncle or grandfather.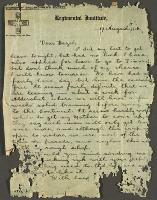 A collection of Malthus' letters has been digitised and made available online by Christchurch City Libraries. The letters are penned to his future wife, Hazel Watters. Malthus died on 25 July 1976.
This collection of letters and documents dates from April 1914 to his discharge in April 1917. The collection is not complete, and portions of some letters are missing. The letters follow Malthus' progress from training in New Zealand to his experiences throughout the war, including time in Egypt preparing for Gallipoli, and his time in France. Malthus was injured in September 1916 and returned to New Zealand in March 1917.
The Malthus Letters on Twitter
We are tweeting excerpts from Cecil Malthus' letters as part of our commemorations of WW100.
You can follow his words at @malthus_letters.
The excerpts will be added to a Storify.
Rights statement
Letters and documents digitised by Christchurch City Libraries from a private collection.
This material has been provided for private study purposes (such as school projects, family and local history research) and not for published reproduction.
Related library resources
Links