Iron gun-boat built at Sydney, Australia for the New Zealand Government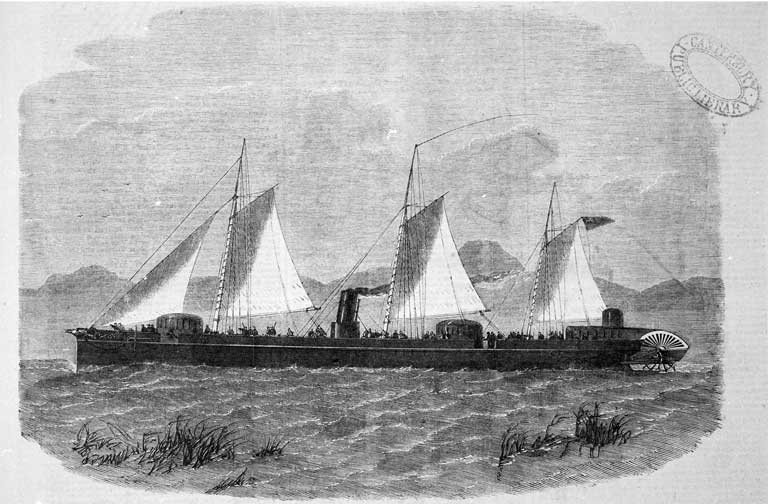 Iron gun-boat built at Sydney, Australia for the New Zealand Government
[ca. 1863]

"About seven or eight months ago, when the military commanders engaged in the Maori war had become aware of the great advantage of effecting a passage up the rivers, it became a question as to how a boat capable of withstanding the assaults of the enemy, and at the same time of light draught and easy movement, could be obtained for navigating the tortuous and shallow streams. The New Zealand Government at once looked to New South Wales for such a vessel, and overtures were made, through Mr. E. O. Moriarty, the Engineer for Rivers and Harbours, who communicated with the Australasian Steam Navigation Company on the subject, and found them prepared to undertake the construction of a gun-boat of the required description. Mr. T. Macarthur, the company's chief engineer, was intrusted with the work, and in seventeen weeks the vessel was afloat, ready to hand over to the agent of the New Zealand Government. We gather from the Sydney Morning Herald the accompanying particulars of the Gun-boat No. 3 as she is called, pending her formal nomination by the New Zealand authorities. She is an iron-built vessel; her length is 140ft., her breadth of beam 20ft., and her depth 8 ft. She is flat-bottomed, and her depth of water, with 300 men and stores on board, is only about 3 ft. But she has centre-boards, by means of which her keel can be deepened to 8 ft. when necessary. She has non-condensing engines of 40-horse power, with tubular boilers of improved construction, to carry a pressure of 60lb. to the inch; and she is propelled by means of a stern paddle-wheel, which has feathering floats.
File Reference CCL Photo Collection 22, Img01107