Normal School, Cranmer Square, Christchurch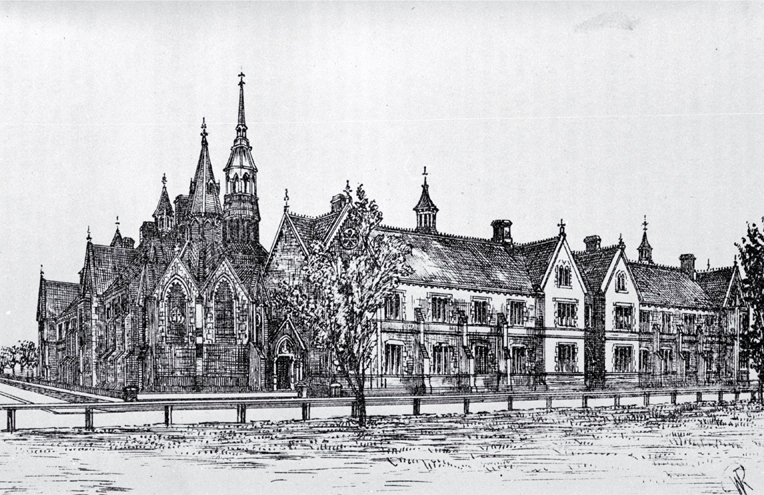 Normal School, Cranmer Square, Christchurch
[ca. 1885]

In an architectural competition Samuel Charles Farr (1827-1918) designed what the authorities sought, 'a monument to conservatism and custom'. In doing this he beat off 11 challengers. His design was for the Normal School in the north-east corner of Cranmer Square. The institution, the first of its type in the country, was to be both a primary school and a training college for teachers. In the 20th century the fact that the school was built of stone became its drawback. By then a preference had arisen for wooden school buildings which were economical, impermanent and easy to replace. Paul Pascoe (1908-1976), architect, was the author of the myth that the school was planned to face south by an English architect who did not realise he was depriving its occupants of the sun and this tale was repeated by many who should have known better, including Sir James Hight (1870-1958). S.C. Farr was never articled to an architect. Rather, he learned his trade in his father's building yard in Herefordshire. He, his fiancée and her family, the Pavitts, arrived in Akaroa in the Monarch in Apr. 1850. Farr designed G.H. Moore's mansion at Glenmark (soon destroyed by fire), George Gould's Hambleden (still standing on the Bealey Avenue-Springfield Road corner) and St. Paul's Presbyterian Church, Cashel Street. Farr, 91, died on 14 July 1918.
File Reference CCL-KPCD12-IMG0088