New church of St. Mary's for Merivale, Christchurch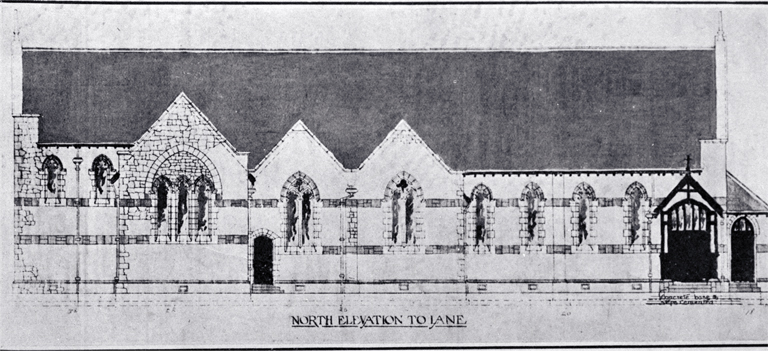 New church of St. Mary's for Merivale, Christchurch
[1926]

The building was designed by Edmund Richardson Fitz Wilson (1871-1941), an architect who practised with Collins & Harman. The new church was consecrated on 6 Aug. 1927. E.R. Wilson was born in Invercargill on 30 May 1871. His father was Henry Fitz Wilson, a merchant, and his mother was Dorothy Eleanor, a member of the talented artistic Richardson family of England, sometimes known as the 'Turners of the North'. Edmund Wilson served a seven-year apprenticeship with McKenzie and Gilbertson, Architects, and eventually took over the firm when the partners left Invercargill. Amongst his commissions in Invercargill were the Civic Theatre, the Town Hall, St John's Church, the original block of Kew Hospital, St Catherine's Girls' College, the former fire station, and stores (including John Edmonds, Broad Smalls and H & J Smith's first premises. Other commissions were churches in Wellington, Christchurch, Riverton and Otautau, and town halls in Otautau and Bluff. In 1902 he married Elizabeth Alice Mary Dickinson. They had a family of three sons and two daughters. The Wilson family was prominent in Invercargill's civic life. Edmund's father was the Chairman of the Hospital Board, the Bluff Harbour Board and the Invercargill Savings Bank, and he was a warden and choir member of St John's Church. Edmund Wilson was also a vestryman, lay reader and choir member of St John's, and a President of the New Zealand Institute of Architects. E.R. Wilson died on 13 Oct. 1941 and is buried in St John's Cemetery, Waikiwi, Invercargill. His wife, Elizabeth, died in 1955.
"A side elevation of the new church, in stone, for the parish of St. Mary's Merivale which was commenced on January 4 and is to be completed by the same date next year".
File Reference CCL PhotoCD 18, IMG0031