The clock tower, Christchurch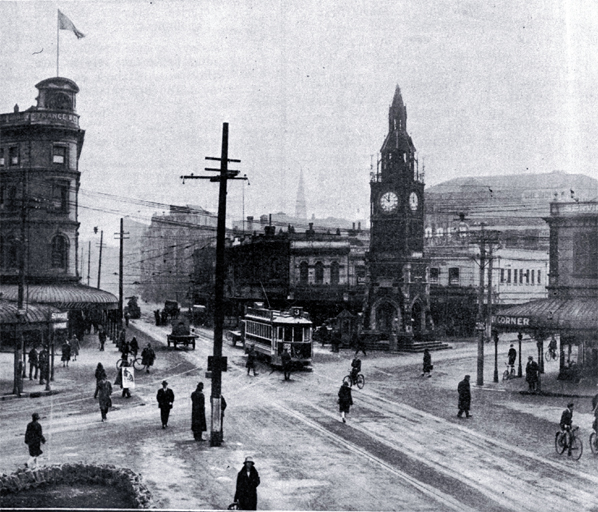 The clock tower, Christchurch
[ca. 192-?]

"The upper or metal of the tower arrived in Christchurch to the order of the Provincial Government in 1859, but it was found that the base prepared for it at the Provincial Government Buildings was not strong enough to carry it, and it was never erected. Its possession passed to the General Government when the provinces were abolished. In 1879 the then Prime Minister, Sir George Grey, presented it to the city. It remained at the Council's yard at the corner of Oxford Terrace and Worcester Street for 18 years." While the tower itself was in storage, the clock was put into the stone tower over the Armagh Street entrance to the Provincial Government Buildings. Ultimately it was incorporated in the tower erected to commemorate the diamond jubilee of Queen Victoria, the foundation stone being laid in December 1897. The tower is pictured on the little north triangle between High, Manchester and Lichfield Streets, across the road from what was the Majestic Theatre. It was moved to the corner of Victoria and Montreal Streets in Oct. 1930.
File Reference CCL PhotoCD 8, IMG0020