Come to Akaroa, Canterbury's premier seaside resort : tourists' guide book.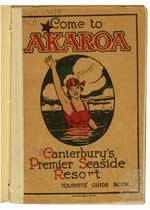 Published by the Akaroa Advancement Association, 1930.
A guide book for visitors, published in 1930, this item includes a wealth of advertisements by local businesses, brief accounts of the history of the area and suggestions for sightseeing.
"Photos by Miss J.L. Buckland."
View Come to Akaroa, Canterbury's premier seaside resort: tourists' guide book [5.4 MB PDF]