Library Treasures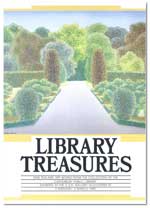 New Zealand Art Works from the Canterbury Public Library
C.S.A. Gallery, 9th February - 5th March 1989.
The Canterbury Public Library's collection of original art works was started by Ron O'Reilly (1914- 1982).
This exhibition was intended as a tribute to Ron 0'Reilly whose insight and astuteness benefitted the New Zealand art community.
Includes
Some reminiscences about Ron O'Reilly from John Stringleman,
Exhibition catalogue.
View Library Treasures [890kB]