Festival strong in tough times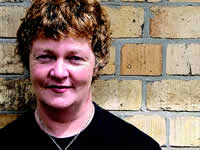 Despite several months "chained to a computer" and worrying about numbers, Auckland Writers and Readers Festival director Jill Rawnsley is surprisingly upbeat.
One of the reasons she's so happy is that festival will this year include the announcement of the Commonwealth Writer's Prize – a coup which helps boost audience numbers and media attention.
"It came out of the blue," she says.

"It's only been the last two or three years that they've combined with another organisation to host the awards. The first was in Jamaica, the second was in South Africa, so in actual fact this is one of the biggest festivals they've dealt with so far."
Co-ordinating writers, judges and calendars has required some serious work.
"It's a huge operation for them. It's been a combined effort – its very exciting."
The awards are on their own a drawcard to the festival, but Rawnsley says it is just one of several new initiatives for 2009.
"This year we've ended up with four new things that we haven't done before. They include the writer's prize, a group of writers from the New Yorker magazine, a video link, and schools events."

"The schools programme is something I'd wanted to do for years. It's all completely unknown territory. We've spent a lot of time looking at what other festivals did, and talking to teachers. We're building up from scratch."
She admits there were initial fears about the numbers that the schools programme would attract, and at one point she considered putting the audience on stage if numbers were low. She needn't have worried.
"We've got over 6000 bookings, which is phenomenal. That's probably the thing I'm feeling really good about this year, that we've got that under way. That just feels fantastic.

"It shows there's a hunger for these collective events, and its not just adults who want them. It's been clear that there's really genuine enthusiasm out there in the student community as well.

"There's more free events this year and less ticketed events. If you didn't have the schools events there's less events than last year, for all kinds of reasons. In a way I think it's improved it. It's made it tighter – I can't tell you the number of things I've had to leave out, which is heartbreaking and frustrating. It's like editing I guess – you have to do it."
Tight focus for festival
The festival - running with the slogan 'Find out what on Earth is going on' - is tightly focused around where the world is at – still the enjoyment of a wide range of fiction and non-fiction, but with an overarching theme of examining the current global situation.
"About the time it was all circulating was around election time last year – both here and in the states. I was already in conversation with the New Yorker people then and the contrast…

"Rhonda Sherman sent me a wonderful email on election day about the things she was seeing out on the street – people ruinning around hugging each other and all this kind of stuff, and it really impacted for me in terms of the environment here at that point and just the contrast between how they were going politically and how we were going politically. Those are the things that I was interested in at the time."

"It just happened that we ended up with Mohammad Hanif, Tash Aw and Chimamanda Ngozi Adichie – it just coincided with this really diverse group. We've had criticism in the past that there's too much UK focus. Part of it, to be honest, is just the sheer financial aspect of getting people from the States because the airfares are so expensive. We tried really hard this year top look that way as much as we do to other places.
Stefan Aust, former editor of Der Spiegel and author of the Baader Meinhof Complex, was a "complete gift".
"The Goethe Institute contacted us and said he was coming out for something else and would we be interested? That's the wonderful thing about getting the festival to the point its at – you've got people comeing to you with events or ideas because there aware that it's a good platform to get a really good public audience."
Richard Dawkins's video link appearance was another triumph.
"I can't tell you how stoked I am that we've made it happen. There's still a bit of nervousness, but there's been about 50 people involved. It was one of those things where we had to start from scratch and go around and ask questions … it was a whole new relam for us. Fortunately for us quite early on he'd agreed to do it and that really helped in terms of making the event happen. All the technical people were very excited."
Local writers well represented
All the important elements of a writers festival are there, Rawnsley says – emerging writers, fascinating non-fiction, and major fiction writers like Lloyd Jones.
"I'm delighted that Kirsty Gunn is going to be back here – we still think of her as our own. I'm really pleased that Paula Morris is coming back again because finally she's not just going to be a chair of an event, which she has done a lot of – she's here with her own book."
Highlight
Rawnsley finds it hard to choose one event as best.
"I've agonised over every one. The one event I'm slightly nervous about but am looking forward to is the next hundred years – a panel of six speakers. It's a group of people with such different interests, I think that will be really fascinating."
New Yorker events also promise to be highlights she says.
May 2009