New Zealand Post Writers and Readers Week 2010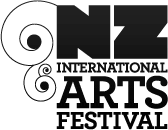 Christchurch City Libraries connects you with the New Zealand Post Writers and Readers Week 2010. Part of the New Zealand International Arts Festival in Wellington, events take place from 8 to 14 March.
Richard Liddicoat, editor of the library web site, will be posting about NZ Post Writers and Readers Week on our blog.
View photographs of NZ Post Writers and Readers Week from our Flickr site.
Richard Liddicoat with New Zealand author Kate de Goldi.
Top talent
Forty-four events with household names like historian Simon Schama and Neil Gaiman, Margo Lanagan and Audrey Niffenegger, as well as top Kiwi talent in Bill Manhire and James Belich, Charlotte Grimshaw and Emily Perkins.
Sarah Waters, author of the saucy Victorian tale Tipping the velvet, and screenwriter for UK spy drama Spooks, Neil Cross, get their turn in the spotlight along with poets, journalists, publishers and popular scientist Richard Dawkins.
Festival Authors
Here is a list authors and panellists featured at the festival and held by Christchurch City Libraries. The list is in alphabetical order by last name. See our premium websites Books and Authors, Literature Resource Center, LitFinder and NoveList for more detailed author information.
Author of The Outlander. A mysterious, desperate young woman flees alone across the icy western wilderness of the Rocky Mountains; bloodhounds track her through the trees. Her name is Mary Boulton. She is nineteen years old. Half mad. Already a widow, she is pursued by her husband's murderers. She is forced to flee even deeper into the mountains.
New Zealand historian, author and presenter of television series The New Zealand Wars.
Winner of the Prime Minister's Award for Literary Achievement in non-fiction, Judith Binney is a noted New Zealand historian.
Christchurch author and illustrator.

Kate Camp

New Zealand poet and editor.

Laurie Chittenden

Editor, HarperCollins Publishers.
New Zealand poet.
New Zealand author, illustrator, TV presenter.
Award winning Canadian poet
Celebrated New Zealand writer of children's stories.
Thriller writer and scriptwriter for Spooks television series.
Saturday paper called him "The greatest atheist on Earth". Evolutionary biologist and science writer.
Travel writer, essayist and novelist. Latest novel Jeff in Venice, death in Varanasi. Regular columnist with The Guardian.
Director of the Auckland University Press.
Internationally acclaimed playwright.

Neil Gaiman

Bestselling English author of comic books, graphic novels, prose novels, children's books, short fiction, nonfiction, and screenplays.
New Zealand playwright, a writer of fiction and short stories, and a poet.

Miria George

New Zealand playwright.
Celebrated New Zealand Māori writer of novels (including Potiki), short stories, and children's books.
New Zealand playwright, screenwriter, poet and short story writer.
New Zealand poet and children's writer.
Montana Book Award winning New Zealand writer (novels and short stories) and reviewer.

Fariba Hatchtroudi

French Iranian writer, 2009 writer-in-resident at Randell Cottage.
New Zealand playwright.

Michael Heyward

Australian author and editor, Michael is also the managing director and publisher of Text Publishing, a multi-award winning independent publishing company in Melbourne.

Philip Hoare

British writer and journalist, winner of the 2009 BBC Samuel Johnson Prize for Non-Fiction for Leviathan.
Award winning young Australian writer of fiction, non-fiction and short stories.
British author and literary agent.

Eli Kent

Young New Zealand writer whose third play won "Best Theatre" in the NZ Fringe Festival 2009.
Australian writer for children who has also worked as a freelance book editor and technical writer.
Australian author of novels and short stories.
New Zealand poet, anthologist, essayist, broadcaster and teacher of creative writing.
English poet who has won the Gregory, Maugham, Forster and Faber Memorial awards.
Canadian author of short fiction and novels who Richard Ford states has "an unswerving instinct for what's important in life."
Celebrated American novelist whose novels frequently deal with young women from unhappy families. Bruce Allen commented in the Chicago Tribune Book World. "Moore's prose … succeeds admirably in casting her troubled characters in vivid relief".

Audrey Niffenegger

American author whose popular novel The Time Traveler's Wife has recently been made into a movie.
New Zealand financial journalist.
Bestselling New Zealand author of historical fiction, Pattrick's new novel Inheritance is set in the present day and Samoa in the 1960s.
New Zealand author and winner of the 2009 Montana Medal for Fiction.
Best known as the writer and presenter of the BBC's 15-part documentary A History of Britain, Simon Schama was educated at Cambridge University and is currently Professor of Art History and History at Columbia University. His first book Patriots and liberators won the Wolfson History Prize in 1977 and he has since written 13 other titles including an exhaustive three volume history of Britain to accompany the BBC TV series. Schama appears at the New Zealand International Arts Festival in conversation with Sean Plunket.

Kamila Shamsie

Author of five novels, mostly recently Burnt shadows published by Bloomsbury in 2009 and short-listed for the Orange Prize, Shamsie was born in Pakistan in 1973. Kamila splits her time between Karachi and London, and uses the theme of cross-cultural identity in her writing. Both Shamsie's mother and grandmother are writers and she says she always wanted to be a writer - it's an inextricable part of my life.
Australian born, Princeton philosopher Peter Singer doesn't take any prisoners in his quest to end world poverty. He donates between a quarter and a third of his income to charities like Oxfam and through titles such as The life you can save: acting now to end world poverty he encourages his readers to do the same. The author of over 25 books, Singer appears at the New Zealand Arts Festival in conversation with freelance writer Keith Ovenden.
New Zealander Anna Taylor's short story collection Relief was published in 2009 and includes several stories she completed while gaining a Masters in Creative Writing at Victoria University. She cites authors such as William Trevor, Lorrie Moore and Alice Munro as short-writing influences. Anna lives in Wellington and currently works as a tutor in creative writing.

Iliya Troyanov

Publisher, translator, novelist and travel writer, IIiya Troyanov's family fled Bulgaria in 1971, eventually finding political asylum in Germany. He subsequently spent much of his childhood in Kenya and has since travelled extensively in Tanzania and India, also completing the Hajj to Mecca. His fictional biography of Sir Richard Burton the legendary explorer and linguist The collector of worlds was published in English in 2008 to great acclaim.
One of Granta's prestigious "Best of Young British Novelists" in 2003, Sarah Waters has published five novels, most recently the 2009 Man Booker short-listed The little stranger. Waters first three novels are all set in Victorian England and explore themes of criminality, sexuality and spiritualism. They have also been successfully adapted for television. She has a PhD in lesbian and gay literature and would love to have written Daphne du Maurier's Rebecca.
Former head of Art and Visual Culture at Te Papa, Wedde is a poet, novelist and critic. His 14th poetry collection Good business was published in 2009 and features a sequence of poems named after Wellington businesses and institutions. He was awarded an Arts Foundation Laureate Award in 2006.
March 2010