'Writing marathon' starts festival with a blast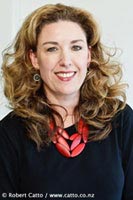 The NZ Post Writers and Readers Week begins with what is quite possibly one of the wildest events on the country's literary calendar — Once upon a Deadline. Seven writers armed with seven laptops battle it out in seven locations — including a cage — for the audience adulation and a hefty wad of cash.
Programme manager Laura Kroetsch says the event is the perfect starting point.
"It'll be a blast," she said.

"At seven-thirty in the morning they'll each get a map. They have an hour at each location to write and at the end of the day we bring them all back together and we give them an hour with an editor to finish the story. Then it's right on to the stage at the Town Hall — they read — and one of them wins $2000."
"It sounds to me like torture," Kroetsch said.
Minders make sure the writers stay fed, watered and coffeed. Public transport must be used. Responses on the street are "incredibly positive".
"People are really curious to see how the stories turn out."
The map of writing locations will be posted on the festival website.
Making a private activity public
The performance writing marathon sums up the approach the organisers take to the entire festival — making the private activity of writing public.
The approach is mirrored at the other end of the week — children's events where young artists and writers can make a crooked man with Gavin Bishop and create poems in pictures with Paula Green.
"We try to address arts access and makes sure there are free things you can come along and see. We're really mindful that we want children and language to connect. So all of the children's day sessions will be about craft, but they'll also be about words. You can make a poem — even when you're four."
Depth of talent due to pester power
Literary festivals are big feats of organisation. This year's festival has been two years in the planning, with dozens of board meetings and countless phonecalls and emails. The hard work shows in the programme.
Starting on March 8, there are forty-four events with household names like historian Simon Schama and Neil Gaiman, Margo Lanagan and Audrey Niffenegger, as well as top Kiwi talent in Bill Manhire and James Belich, Charlotte Grimshaw and Emily Perkins.
Sarah Waters, author of the saucy Victorian tale Tipping the velvet, and screenwriter for UK spy drama Spooks, Neil Cross, get their turn in the spotlight along with poets, journalists and publishers.
So how does Kroetsch do it?
"I'm possibly just a huge pest. For some of them it was just perseverance. Simon Schama and Neil Gaiman we've wanted to come for a long time – those are conversations that took place over many years. Pester power was definitely part of it.

"With people like Sarah Waters and Audrey Niffenegger we got a bit luckier because they had just finished books. Unlike other performers in the festival we're waiting until the artists has finished the art before they can come and visit us. A lot of it is timing."
Kroetch's modesty belies her organisational skills — she has already started issuing invitations for 2012.
Connecting with real world
There's a strong thread of non-fiction, history and creative non-fiction for the 2010 festival and Kroetsch says that's a direct result of demand from the public.
"In the last few years we've definitely seen that the demand for non-fiction grows and grows. Demands for issues too — like [ethical philosopher] Peter Singer. But also in New Zealand there's a huge demand for history.

"In 2008 when we had Dame Anne Salmond here we saw big audiences — and once we had Simon Schama it made sense to bring on James Belich. A lot of the novelists like Kamila Shamsie and Iliya Trojanow are writing versions of historical novels, We mad a little bit of a conscious decision to move away from the domestic novel and towards the kind of fiction that is engaging with the world and the issues of the world.

"That's certainly true of Chloe Hooper with the Tall Man – there's a huge immediacy with the book. And Philip Hoare with Leviathan is speaking directly to the issue of whaling."
Sessions to look out for
"Once upon a time, with Margo Lanagan and Neil Gaiman is going to be brilliant. I think what they're going to say about the real way we should treat children in children's literature is fascinating — as Gaiman would say 'If we could scare children in the nineteenth century I don't see why we can't scare them now'."

"Lisa Moore is a gifted writer — she's one to watch. Unlike a lot of Canadian popular fiction she doesn't write historical novels she writes about contemporary Canada. It'll be quite refreshing."
More festival news and updates
The festival programme promises big issues, remarkable minds and great stories — all will be revealed in March. Keep your eye on the library blog for session reports and interviews, and check the Christchurch City Libraries flickr pages for photos of the events.
February 2010