Mark Billingham

Mark Billingham is one of sixty authors who attended The Press Christchurch Writers Festival from September 4th to 7th, 2008
Originally from Birmingham, he worked as an actor (small parts on series such as Juliet Bravo and The Bill before a successful stint on Maid Marian and her merrymen) before becoming a television writer (highlights include an adaptation of Dick King-Smith's Harry's mad) and performer (the human face on Spitting image) and a stand-up comedian.
In 2001 he brought out his first novel Sleepyhead which introduced Detective Inspector Tom Thorne to readers. It was an immediate bestseller and six novels have followed in this series and he is now regarded as one of Britain's top crime writers. He acknowledges his love of American crime fiction as inspiration for the novels and his gritty urban tales have made him London's answer to Edinburgh's Ian Rankin. Thorne is a character who isn't predictable and has grown and developed in different ways with each book. BBC-TV is currently developing the Thorne books as a future series.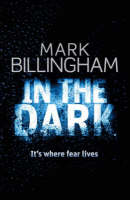 Billingham's 2008 book is a standalone thriller, In the dark, and it deals with the contemporary issue of gang violence and its effect on the lives of ordinary people.
Find more information about Mark Billingham