Babette Cole: Keeping the fun alive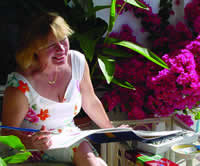 There's a delightful image on Babette Cole's website of her working on a sunny island balcony surrounded by flowers. The prolific author and illustrator really does get the chance to work like that, she says.
That's in the West Indies. Normally I'm up to me knees in mud in wellies in Dorset, but I do spend some time in the West Indies working. Most of my family all married West Indians so I've been running round the Caribbean for about 21 years … I did have a boat I used to live on and work on.
I work in my friend's house – that's where that photograph was taken. I've got a stud farm at home so I can't spend too long away really.
Cole is visiting Christchurch for the 2008 Storylines Festival, running a workshop for aspiring children's writers and illustrators. She recently released a DVD on the subject, which she says sells extremely well.
It basically answers the three big questions that writers and illustrators want to know: Where do you get your ideas from? How do you actually produce a children's picture book and how do you get it published? It's how to deal with publishers and agents and how to do a contract.
You've got thirty years of publishing there, and four years at arts school in one hour. It's great value, and we've had some amazing reviews from Brazil and Cairo and South Africa.
Demystifying the process and being open about how she works is quite natural for Cole who is unerringly enthusiastic about her work.
A lot of people just work on a computer these days and send their artwork into their publisher on a DVD – I don't do it that way; I like the physical side of drawing. It's very difficult to get published these days, I haven't made any secret of that, but there's no reason why people shouldn't have a go, it is an art form. Children can do this as well. It's suitable for children for students and adults.
Workshops are hugely popular, she says.
I go all over the world doing them. Really I should be at home writing and illustrating children's books … I try to make it like they're the orchestra and I'm the conductor – so that we can fire ideas at each other and discuss them and then put them down in picture form; pictures and words together.
Talking children's language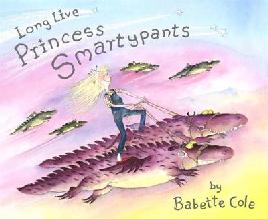 A vital ingredient in success is not talking down to children, and communicating digitally – through blogs, videos and other means, Cole says.
These days we have to talk to children in their own language. That's how (the books) got so famous and so good at what we did and so recognised in the eighties and nineties – we could talk to children in the own language, but their language has changed – unless we learn talk to them digitally, we'll be left behind.
That's how Harry Potter became famous – it was the children. They just blogged to each other about it. It's extremely important these days that a book is not just a book – it has to have another dimension to it. Templar's Ology books are absolutely fantastic – they have a whole secret website that you can find the clue to in the book. When you're in there the presenter says 'Ahh, now. I'm so glad you found us…' and it's another secret.
It's another medium that we can use – we don't have to be frightened of it and say it's going to destroy books completely. We have to embrace it and make it work for us.
Interacting with the audience in this way is essential for modern authors, Cole suggests.
You have to do that now. On my website – I get letters every day, which I always reply to – it takes me about two hours every morning. I'll do my best to answer questions or help people. You have to do that now; it's the world we live in.
Dr Dog and the hygienically challenged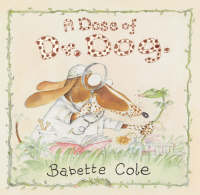 Dr Dog is one of Babette's most popular characters, a basset hound GP who lives with the Grumboyles, who are full of dirty habits. While children enjoy characters dealing with sticky bits, fingers in noses and worms, adults, Coles says, don't always choose to read with their kids, or enjoy books the way children would.
The problem is you see that adults don't really read. They do in this country. It's very refreshing to find in New Zealand that parents are interested in their children being bookish, but in England I'm afraid it's on the decline. We have the National Year of Reading and also The Big Picture, which is to try and help the failing industry of picture books.
The scheme is voluntary and targets adults as well as children encouraging literacy and reading together.
I had this idea to do something like a book bus where we went around and just read to the parents and the children – and gave our remainders away. Otherwise the publishers just trash them. We could be giving them away. It's quite a good way of selling books … they might buy another book one day.
Dr Dog was originally Benji Bigboots, the cool operator – a family basset hound.
He was such an intelligent doggy that if you gave him a lawnmower he would have mown the lawn for you. I could see him being a doctor very easily. I've got another little terrier and he's a doctor too – always licking the other dogs' wounds and coming and telling me if somethings wrong with one of them. They don't have to be doctors – they could be solicitors or estate agents.
Widely published and translated into six dozen languages, Cole says one of her greatest pleasures remains reading.
As a child (I enjoyed) Narnia books, J. M. Barry – Edward Lear I quite liked. I'm a great fan of Roald Dahl, I've done some Roald Dahl books. Sadly I get very little time to sit down with a book. My greatest pleasure is to go on holiday and suit on the beach and read.
There won't be any time for that on this trip, and Cole is very interested in exploring New Zealand further. Perhaps Dr Dog will need to make a research visit?
I wish I had time off to have a look at this absolutely stunning and fascinating country. It is amazing – I'm itching to get out there and have a look at it.
New novel 'far too sexy'
Cole chortles happily when asked about the adult novel that she's been working on.
It's actually a jolly good adult novel, but no-one will publish it because it's so awful. It's unusual. I've been writing it for about five years now. It's called The Man Shortage Company and it's extremely funny. In the literary world it's known as chick lit …
After working with independent publisher Bloomsbury on several projects, the publisher asked Cole to send them a draft of the three-quarter finished work.
It came winging back saying this is far too sexy, far too racy, far too pacy and far too commercial for Bloomsbury. I thought maybe there's a brave publisher who wants to publish it and use that on the back cover.
Cole is good-natured about the rejection, chuckling as she tells how other publishers have got "apples in their throats" while reading the draft.
I think what they find difficult to swallow is that quite a lot of it's actually true…
Keeping the fun alive
Cole loves life and enjoys the moment – how does she keep the fun alive?
Having 15 horses helps. And living in the Blackmoor Vale helps - there's a disaster every day. Horses are great levellers.
There's an awful lot of doom and gloom about these days and if you are lucky enough to be a funny person it does help, and people want you – they want to publish you. I walked into (my publisher) this time and every door I walked into people were like Oh Babette, will you do a book for us? It's basically because I'm funny, and everybody's sick of doom and gloom all the time.
Further information