Personal touch keeps heart in Canterbury tales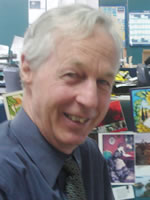 Mike Crean is a senior writer at The Press – so senior that when I ask at the reception counter about getting photos from the 1920s for a research project, there's some light-hearted banter about Crean remembering those times.
Crean doesn't bite, preferring to extract the promise of a Guinness from the offender as the price of the jibe. For the record, the former teacher's writing career started in 1985, when he set up Newspapers in Education at the Christchurch Star and doubled as an education reporter. The ink soon got into his veins.
Right from the start I was blown away by the whole thing of newspapers – I just loved it from the word go. Because of that I used some spare time to belt out some features. They seemed to get accepted and run fairly readily.
Cutbacks in the late 1980s put the heat on newspapers, and Crean thought he might be out of a job.
When the axe came down on Newspapers in Education in 1989 I expected to be laid off and sent back to a school, but the editor called me into his office and said would I take on a job as a feature writer - I readily agreed, and here I am.
Want to write? Get cracking
He moved to The Press in 1993, continuing to write features - a job that lots of reporters want, yet few get. Crean says the only way to do it is to get cracking.
That's the only way to try to impress the powers that be that you can do features. Even then it's a hard and long battle – they don't need to appoint lots of feature writers when they've got all these reporters on board who are expected to do them anyway – and who also want to be doing them.
These days he has editorial meetings on Mondays, with deadlines late Thursdays for 1000-1500 word features. A quick check in the library's Papers database lists nearly seven hundred with Crean's name on them.
You have to show that you can handle anything, I think that's one of the keys. If you look at some of the heavy types of features that the likes of Philip Matthews and John McCrone are doing … some of those stories are pretty darn hard to get together in a matter of four days.
You're talking to a whole range of people and some of them don't want to talk, and some of them are pretty cagey and some of them are going to spin a line of PR twist for you. You have to be able to get to the core of it.
Memory, speed tricks of the trade
Turning assignments into crisp copy is expected of senior writers, who have the skills and experience to gather, process and compress large amounts of factual information into compelling narrative. What's more remarkable is that Crean doesn't record interviews or use shorthand – he works largely from memory. And he works fast.
If I get [an assignment] on a Monday, when we have our meeting to sort out who's doing what, then I'd get on the phone, try and arrange all the interviews. I try to write them up as quickly as I can, for the very pragmatic reason that I don't record and I don't use shorthand. I have to write pretty darn fast – my notes are shocking. If I don't write the story very quickly, I can't remember what they said, and I can't read my notes anyway. I use the notes only to prompt me really.
I'll write up a series of interviews and then say after about Wednesday I'll start pulling them together and fitting them in – and that's the part I really enjoy – the jigsaw – it's really fun.
Crean's country: Historical and descriptive features
Several of Crean's columns were compiled into a book in 2002 – a rare feat for any newspaper writer, and tribute to his popularity with readers. His style evolved naturally, he says.
What I find much easier are the straight out historical descriptive type profiles of people where you're not having to force material out of unwilling speakers. Two weeks ago my boss came to me and said would I do a story on the old Masonic Lodge wall – the façade that was found when they were demolishing a building on Manchester Street. I knew nothing about it, but because I've got a few contacts in heritage areas and things it came together okay. You get known for doing those sorts of things and I enjoy that.
Voice discovered by accident
Feature writers need to develop a voice – a unique way that they tell stories to readers. Crean discovered his "sort of by accident" during the traditional news drought, the summer holiday. Then editor Tim Pankhurst was looking for some easy reading features with a theme of childhood recollections or favourite places.
Being quite an odd sort of a person I had an odd recollection. When I was a little kid my brother-in-law, and my sister … they brought me up. Clarry was a truck driver, he drove the sheep trucks. I used to spend a lot of my time just travelling up and down to town, to the freezing works and back.
I loved it … and I just wrote a story about that. Out of all the - and it would be hundreds now – features that I've done, that's the one that's still gets mentioned; that's the one that people bone me up on the street about over and over again. 'Oh, I remember the story about the sheep trucks'.
That sparked something for me. There's an interest there. What you have done doesn't have to be that wonderful, but if you can jazz it up a bit in the writing …
The secret is that features connect with the reader differently – they are a beguiling mix of information and emotion with a considered yet conversational style that take the reader on a journey – a world away from the standard, pyramid-shaped news report.
People who read [features] must be able to identify a) with you as a writer and b) with what you're talking about. In a news story you must divorce yourself from the story. When I was city council reporter I would write about the city council debating the annual plan and budget. I had no say on anything, I was just reporting what they were saying or interviewing a councillor or two and getting some comment – my name meant nothing.
When you're writing a feature, particularly a lighter feature, they're looking to identify with you as well as the story and I think that's part of the key to it. Once your name is out there for a bit, they begin to look for that name and they know what they're going to get.
I've been everywhere, man
On its website, The Press describes Crean as a man who's been travelling the South Island for decades. Believe it or not, there are a few places where he hasn't set foot, mostly west of the line between Te Anau and Tuatapere. To get into that rugged country he had to take a helicopter. His honed travelogue-style writing, which tips its hat to the quirks and characters of local history, is especially popular with the over 45s.
I get requests to talk to Probus Clubs and Rotary clubs – I did a count recently and I did twenty-two addresses in the twelve months up till then. A lot of the places I go to the first thing I hear is: 'you all know Mike Crean – you've seen his face in the paper, because he writes that column…'
It's bloody embarrassing really, cause I don't feel it's all that hot stuff. They just like that familiar warm, comfortable, homely touch I think.
Crean downplays his appeal like a typically stoic Kiwi bloke, but there is no doubt readers enjoy the mix of historical fact and personal touch he delivers. This style is mirrored in our interview – he speaks with practised ease of a raconteur, at a measured rate approaching a hundred words a minute. With impressive recall of facts and detail, Crean puts heart into history, and that's something his fans – who come from as far away as San Fransisco – love.
Documenting lives – and deaths
The lighter historical feature may be Crean's signature piece, but he also spends a great deal of time writing obituaries. Conducting interviews with hurting families is demanding work, he says.
You're dealing with such sensitive material you've got to be very, very slow and careful. I don't like to put in anything grossly negative. If a person has an endearing fault, yeah, you can mention that… without overdoing it.
Generally you've got to draw a line between a eulogy, or a hagiography, and something that will go down in the journal of record as 'this is what this guy was like, warts and all'. It's fairly difficult to do that.
Nine times out of ten I'll go and interview family. It's nearly always a man who's died. You go there and you're talking to the widow and one or two of the children. They're hurting okay, but I'm constantly amazed at how they get into a spirit of talking and then they warm to it. Then they start joking; the recollections come out. Through an hour-and-a-half of sitting there chatting to them, your sentiments, your emotions, run from tears to laughter so many times, there and back again, theirs, and sometimes mine too.
You feel as though you've been drawn into a little personal shell of their family and your very, very privileged to be there – especially when you're a nobody. They don't owe me anything, I'm only there by proxy for the readers. To come away from those homes and feel like your walking on air because you've shared something quite unique – how can you then turn around and dish the dirt on them? I just can't do it; I'm just a bit too soft, I guess.
The paradox of the digital age
Fast-paced change in the digital age doesn't phase someone who's met daily deadlines for over 30 years, but that doesn't mean there's any less work to do.
I don't think its made any difference for me – except that there's that lovely paradox that we think the digital age has made everything so much faster and more efficient, that we could push our deadlines back a bit. Instead of that they're coming forward. We're constantly having to do things sooner – not because the printing process takes longer, it doesn't – but because of other demands.
Chasing Max: Tales from the front lines
Feature writing is a job that puts challenges in front of even the most seasoned writers, Crean says.
I constantly find myself in unusual situations, and situations I never dreamed I would be in. When Tim Pankhurst was editor he asked me to find out why the Royal New Zealand Navy wasting its time sending a brand new frigate, Te Kaha, into the Southern Ocean, on the pretext that they were hunting down toothfish pirates. He said it was a pretext, anyway. The ship had only just been delivered and I think Tim suspected that [it] was having problems and they wanted to give it a bit of a workout …
The navy invited Crean onto the ship, and he jumped at the chance.
You never, ever say no to anything in journalism. I was flown in a Sea Sprite helicopter – they were brand new then. We flew out of Christchurch Airport and landed on the deck of the Te Kaha way out in Pegasus Bay. It was so far out you couldn't see [land] from the beach.
Crean needed an interview with then Defence Minister Max Bradford, but the opportunity didn't come easily.
The Navy are wonderful hosts – all the armed services are – but I couldn't get near him; he was surrounded.
The next morning, Crean woke unexpectedly early – five o'clock-ish - and went up on deck to see the sunrise.
Who should I see but Max Bradford doing the same thing. So I bowled over to him and said 'Righto Max, I got ya,'.
I got a whole hour-long interview with him in which he talked very candidly and openly and I got a whole new appreciation of a man that politically I had never had much time for. In addition to that we saw the sunrise and the lights going off on all the squid boats – it was a fantastic experience.
It's a long way from a classroom, but Crean learnt plenty from the crew as a young navigator gingerly nosed the frigate into Otago Harbour.
I stood there and watched the whole performance as we went right in through that narrow entry and up the harbour between the big posts. We saw the lights on the cliffs flashing to tell us right or left … right up to the inner harbour. It gives you a wonderful feeling about the calibre of our naval people.
From frigate to fighter jet
In the days when New Zealand had an airborne strike force, jet pilots were trained on the Strikemaster - a two-seater plane with the seats side by side like a car. Strikemasters can travel slightly quicker than your average sedan, and thanks to a media invite, Crean was in for an enthralling ride. There's a contagious enthusiasm as he recounts the flight.
Our mission was to bomb the Waitaki Dam. We were to be stalked by the third Strikemaster which would come out of the sun or out of the clouds … by the time we got to about Timaru this bandit attacked us for the first time. What had been a beautifully calm, smooth trip became voom, voom [he criss-crosses his hands] and we were flung around the sky. Oh boy! It was pretty hard on the stomach.
We dropped the bombs, and I was determined to hang on to my breakfast – I wasn't going to let it go. We came up round Omarama and across towards Twizel and the pilot looked at me and he said 'I think you better undo your mask. We don't want anybody spewing, it makes a hell of a mess'.
The fresh air revived Crean and when they were back on the ground he thanked the pilot for saving his skin. It turned out he was the first journalist who hadn't thrown up – a didn't-puke badge of greenhorn honour that he could rightly be proud of.
Library staff 'treasure'
Seat of the pants research is hard to beat, but Crean says many of his features couldn't be done without the help of library staff.
It's not just the library per se, it's the people in it. We've got people here - I just treasure them, they're so good. If I need any quick assistance or information on anything, all I've got to do is go in there and ask. You can guarantee within 15 or 20 minutes they'll come back with a pile of printouts from various sources – our own files, internet, magazines and so on.
It's almost embarrassing to ask – you get so much more than you need or could use. We can also go down to the central city library and do it all, but it would take me about a week. The skill these people have is knowing exactly where to look. They've got that wonderful skill of tuning in … and then going and getting it.
New week, new assignment
We finish our interview with a tour of the newsroom. Crean sits close to the chief reporter and the illustrations editor, who take on all comers back-to-back in the centre of the action.
The Saturday deadline is a couple of hours away, but Crean is relaxed - having filed his copy, he is preparing for next week's assignments. I bid farewell and move onto my next interview with a single thought: I hope he gets that Guinness.
September 2008